MARCH 2023 EVENTS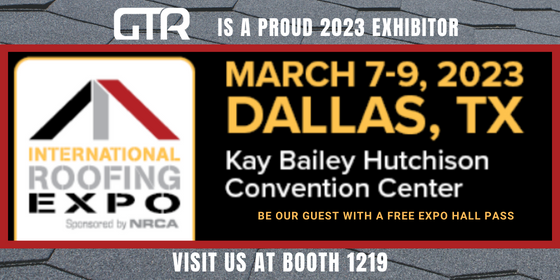 Join us at the International Roofing Conference (IRE) 2023 in Dallas, Texas, from March 7-9, 2023, for the premier roofing event of the year. With hundreds of exhibitors, over 60 educational sessions, a dynamic expo floor showcasing the latest products and services, and numerous networking opportunities - you'll have the chance to learn from industry experts, explore emerging trends, and connect with fellow professionals. Don't miss out on this valuable opportunity to expand your knowledge and grow your business. Register below and use Promo Code: EX23CUST166 for a FREE Expo Hall Pass!
Dates: March 7th - 9th | Location: Dallas, TX | Booth: 1219 | Register here
---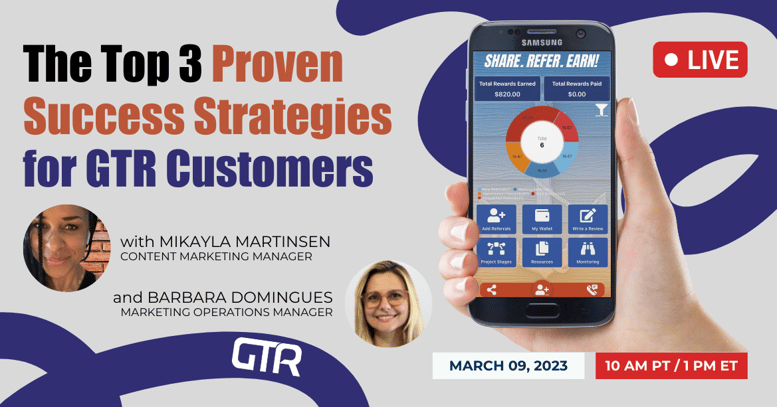 Discover the top 3 proven success strategies for GTR customers on our next live webinar! In this webinar, you will learn:
* The most important success factor for your referral program and how to maximize it with the GTR platform.
* Creative ways to empower your customers to share your business with others and how the GTR app makes that easier.
* How to use your referral rewards to inspire your advocates to send referral after referral, long after the first.
* And more!
Register below to join us on March 9, 2023, at 10:00 AM PT (1:00 PM ET).
Date: Thursday, March 9th at 10 am PT | Location: Online | Registration here
---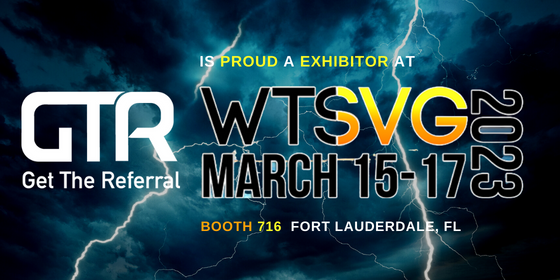 GTR will be at the 9th Annual "Win the Storm" Conference & Tradeshow! Join 10,000+ First Responders, General & Roofing Contractors, Emergency, Fire & Water Restoration Contractors, Solar Dealers & Solar Companies, Public Adjusters & PolicyHolder Attorneys, Non-Profit Organizations, and many others from across the Nation that serve the $100B+ Catastrophic Event & Storm Restoration Industry. Will you join us? Register below.
Dates: March 15-17 | Location: Fort Lauderdale, FL | Booth: 716 | Register here
---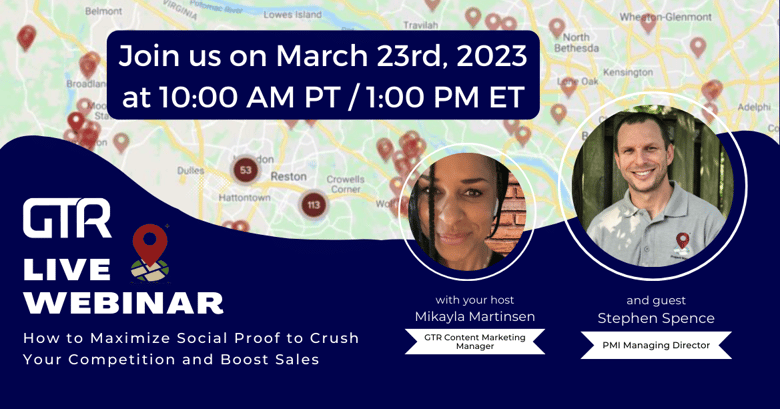 Join us live to learn how Project Map It and Get the Referral work together to help you stand out from your competitors, generate more reviews, close more sales, and amplify your referral program on Thursday, March 23rd at 10:00 am PST. Plus receive an exclusive promo offer by joining the webinar live! Registration page coming soon.
Date: Thursday, March 23rd at 10 am PT | Location: Online | Coming Soon!
---
Interested in learning more about GTR? Book a demo below: