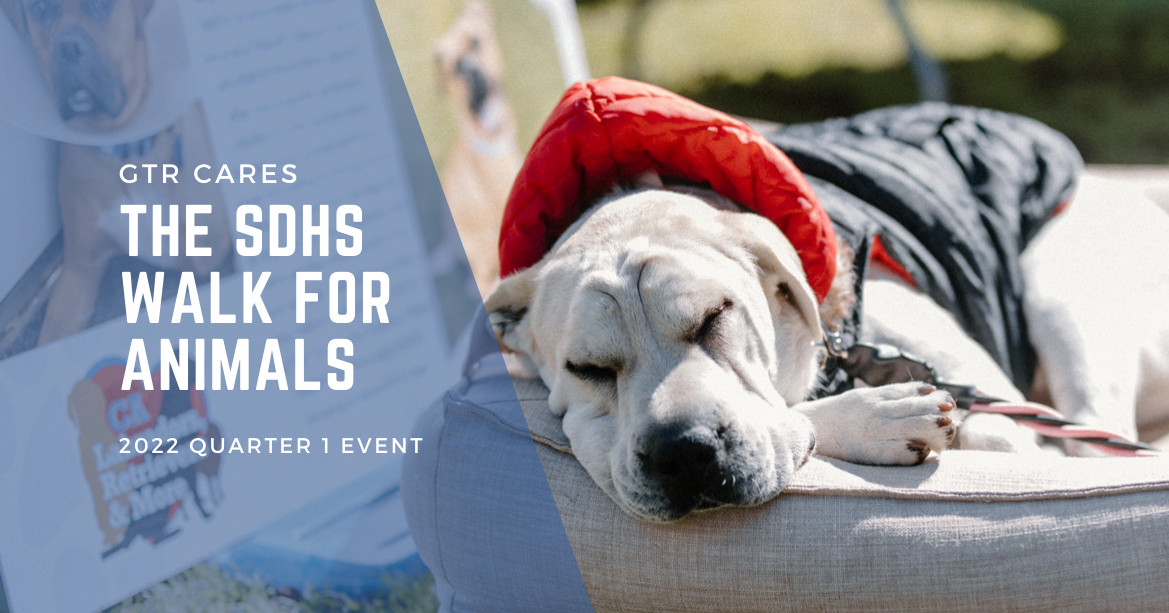 Get The Referral (GTR) is a company that strives for trustworthiness, transparency, innovation, clarity, and collaboration. We've worked hard to build a team of talented, skilled, yet kind individuals who work hard at our jobs but also try to make a difference in the world whenever we can. GTR is committed to being a force for the greater good in all areas of corporate social responsibility (CSR) including environmental, ethical, economic, and philanthropic. Since the COVID pandemic has been reported to be entering the endemic phase, we decided it was a good time to reawaken our commitment to our philanthropic responsibilities. Introducing - GTR Cares.
What is GTR Cares?
GTR Cares is responsible for the philanthropic activity of our company's corporate social responsibility commitment. These activities will include volunteer opportunities for our GTR team members to donate their time, in person, to make a positive impact on the world and to help make society a better place. We also hope to participate in fundraisers, toy drives, and virtual events as well. You can read about our first event below!
What are the GTR Cares Goals?
The 2022 goal for GTR Cares is to provide our team with one opportunity to volunteer to make a difference per quarter. We're looking at devoting our time to causes that include the humane treatment of animals, unhoused community members, support for local firefighters, beach clean-up projects, and many more. We're also looking to increase our commitment to having company volunteer opportunities once per month next year.
For our very first team event, we chose to partner with the San Diego Humane Society because of the wonderful work they do in our city to advance the welfare and humane treatment of animals. Our team (both in our San Diego, CA, office and remote employees alike) has a very strong love for animals, especially dogs. In fact, we usually have a furry friend spend the day with us in our San Diego office at least once a week and we wouldn't have it any other way!
Walk for Animals - North County San Diego California
Date: Saturday, February 26th, 2022
The San Diego Humane Society (SDHS) is a private, independent, nonprofit organization that's been around since 1880, and now provides more than 40,000 animals life-saving care each year. One of their biggest fundraisers of the year is the Walk for Animals. It's a way to celebrate the community's commitment to animals while raising much-needed funds for the SDHS.
Our GTR Cares team had a blast at this event! Starting with volunteer check-in, a complimentary T-shirt, a free pancake breakfast with coffee and fruit, and a walk to our designated spot where we were surrounded by beautiful scenery everywhere. As 'Course Marhals' we had the very important job of cheering on the walk participants and petting more dogs than you can count! Take a look at our highlights video and the event stats below.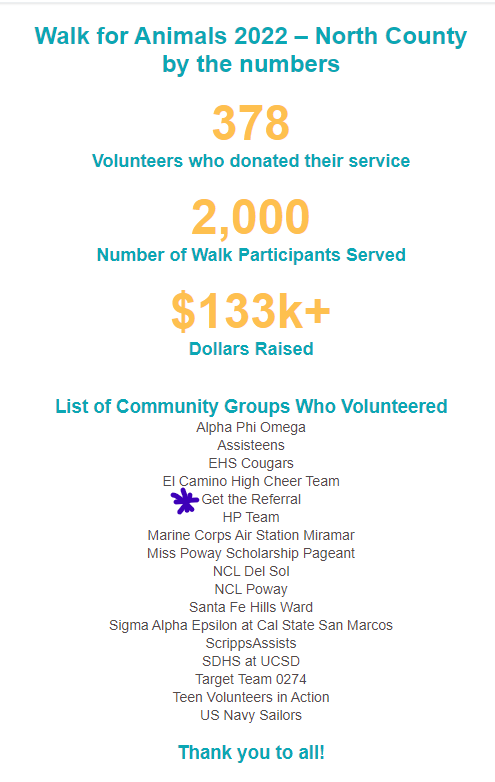 Did you enjoy this article (or the really cute dogs in the video)? Comment below or share this post on your favorite social network. We'd love to hear what you think!