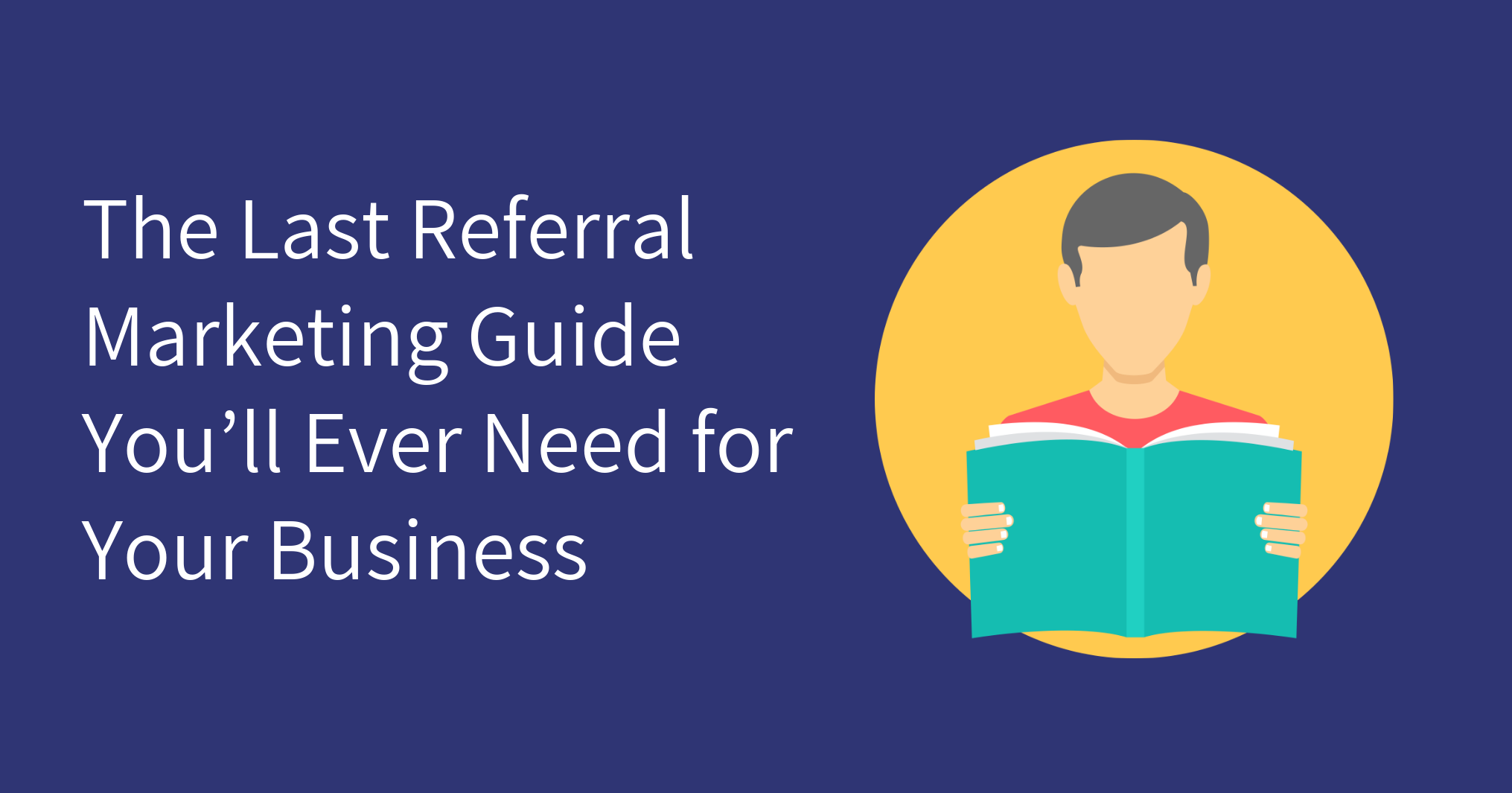 Referral Marketing is a powerful lead generation source for businesses of all sizes and in all industries. But why is it so effective and important, and what are the best strategies to use? We created this guide to answer those questions and provide you with everything you need to know to achieve maximum success with your referral marketing efforts.
Table of Contents:
What Is Referral Marketing?
Why Is Referral Marketing So Powerful?
The Difference Between Leads and Referrals
Referral Marketing Business Statistics
A Guide For Potential Referral Marketing Sources
Why Is a Referral Marketing Program Important for B2C Companies?
Why Is a Referral Marketing Program Important for B2B Companies?
Why Is a Referral Marketing Program Important for Small Companies?
Effective Referral Marketing Strategies
Referral Marketing Business Trends
Conclusion
What Is Referral Marketing?
Referral marketing is the act of spreading the word about a product or service through a business's existing customer base rather than through traditional advertising. Referral marketing is similar to affiliate marketing, and sometimes they overlap, but they are not the same. Affiliate marketers recommend a company for a commission of the sale, but affiliates are not always a user of the product or service. Advocates (or those sending referrals) are often customers who love a company's product or service so much that they recommend it to a friend or family member, sometimes for a reward.
Referral marketing often happens organically, with or without a marketer's involvement. However, the marketer's role is to influence the referral process so that more people will become brand Advocates and share the company with their family and friends. Remember, affiliate marketing and referral marketing are not free advertising but both can help you maximize your marketing budget while increasing leads and revenue.
Why Is Referral Marketing So Powerful?
The main reason referral marketing is more powerful than most marketing tactics is the element of trust. Because advocates are often users of the product or services, and they refer people they know personally, the trust factor is built-in with this kind of marketing. People trust other people's recommendations the most when it comes to deciding on a purchase. In fact, a Nielsen study about referral marketing shows that 92% of people trust recommendations from family and friends more than any other form of marketing. Having your Advocates spread the word about your brand is a win-win-win situation: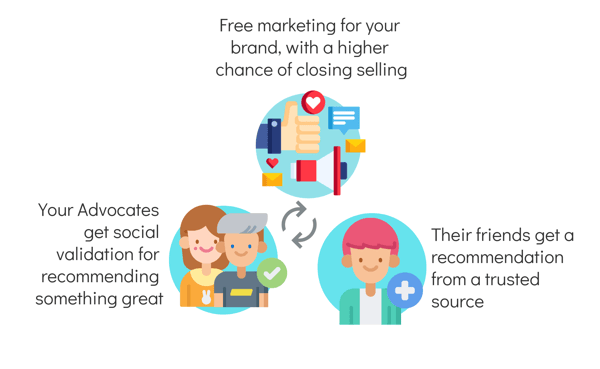 The Difference Between Leads & Referrals
It's important to understand the difference between leads and referrals so that you can better understand how they impact your business. Both are contacts that have the potential to generate more sales for your company, but they differ in many aspects including profile, approach, and outcomes.
Most of the time, leads are contacts that are not expecting to be contacted by your company. At times, they may not even be aware of your company, or that they need the product or service that you are about to offer them.
1. Leads are usually unqualified. They are not always a true opportunity for a sale.
2. Leads have no personal endorsement. There is no built-in trust.
3. The time and effort that your sales team needs to put into a lead are huge.
4. Leads don't come effortlessly. You chase after (and commonly pay for) them.
5. Close rates for leads are often lower because of all the above factors.
A referral is someone who needs your product or service and was referred to your company by a friend or family member. The most important difference is that referrals come with the "stamp of approval" mentioned before. When you call a referral, most of the time they will already know who you are and what you do (through the person who referred them) and in the best cases, may expect your call already.
1. Referrals are qualified! They are a true opportunity for a sale.
2. The time and work you need to put into referrals are significantly less.
3. Referrals come with much less effort. Once you train your team on how and when to ask for referrals, they can come in at any time.
4. Close rates for referrals are higher than leads because of all the factors above.
5. Customers referred by other customers have a 37% higher retention rate (Source: Deloitte)
A common mistake made with referral marketing is to think that referrals are guaranteed business. This is not always the case. Once your business gets a referral, it's up to you to determine if they are truly a good fit for your company, product, and or service. However, the fact is that a referral is a very warm lead and an open door to put your feet forward. Read more about the difference between leads and referrals.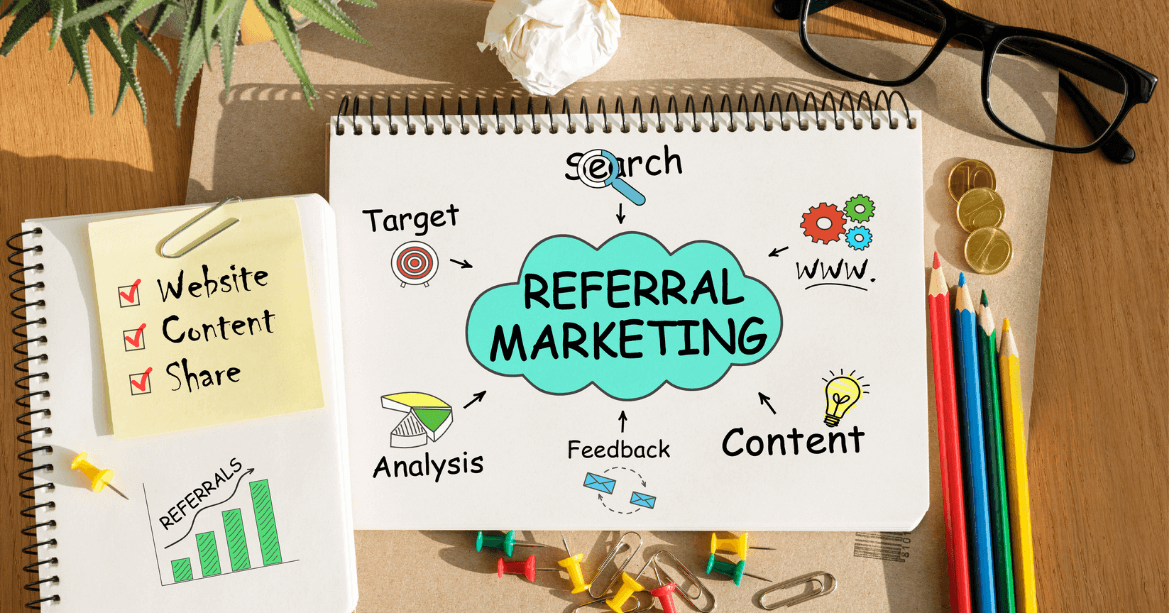 Referral Marketing Business Statistics
To further highlight the power of referral marketing, here are a few impressive statistics:
- A word-of-mouth recommendation is a primary factor behind 20%-50% of all purchasing decisions. (Source: McKinsey)
- 71% of people are more likely to purchase when referred by social media. (Source: Hubspot)
- People are 4 times more likely to buy when referred by a friend. (Source: Nielsen)
- 83% of consumers are willing to refer after a positive experience, yet only 29% do. (Source: Texas Tech University)
- Customers referred by other customers have a 37% higher retention rate. (Source: Deloitte)
- B2B companies with referrals have a 71% higher conversion rate, and they report a 69% faster close time on sales. (Source: Heinz Marketing)
- Word-of-mouth shows to improve marketing effectiveness by up to 54%. (Source: MarketShare)
- 87% of front-line sales reps, 82% of sales leaders, and 78% of marketers surveyed agreed that referrals are the best leads that your business can get. (Source: Heinz Marketing)
A Guide For Potential Referral Marketing Sources
Now that you know the importance of referral marketing and why you should use it, you'll want to know who generates referrals for your company. Referrals can come from outside of your company, or from employees and partners. Every interaction you have and every relationship you build can create a positive experience that can be shared with others and become a referral.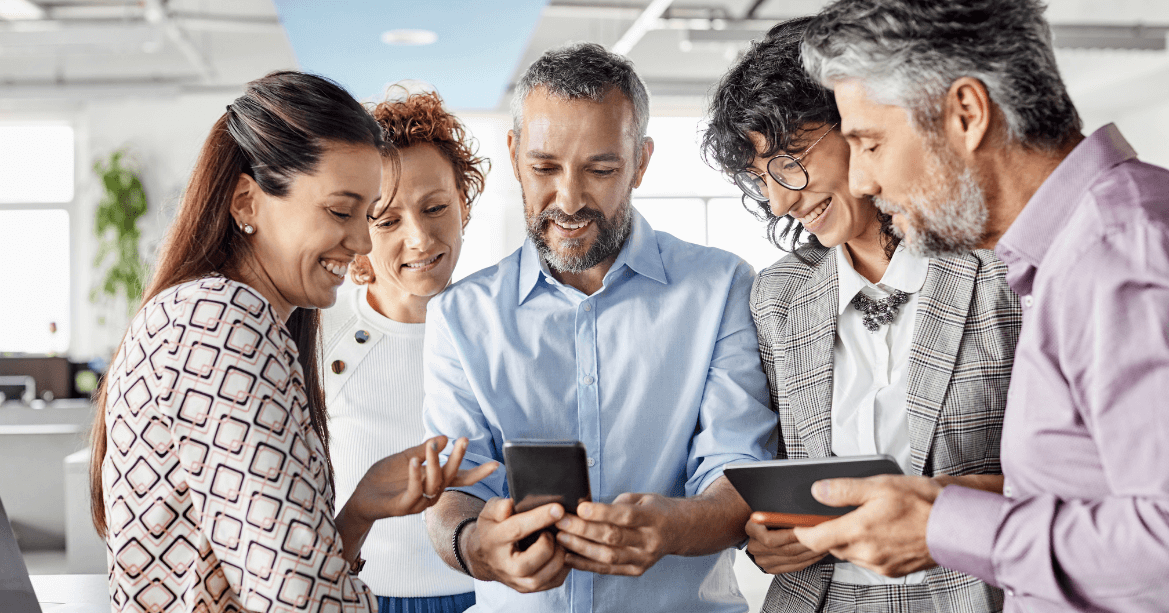 Brand Advocates, or those who elevate your brand through word-of-mouth, can be:
- Employees: They combine their inside knowledge, their love for their job, and their relatable nature to become powerful advocates. Sales teams are especially effective, but employees can be part of marketing, HR, product, and even customer success.
When sales reps become true Advocates, they delight customers with their product's benefits and the problems they solve, while transferring that trust factor in the process. This approach helps to ensure that their referrals have the same positive experience that they had!
- Family and Friends: They are usually part of the employees' network. However, in the case of a family business or even some small businesses, these advocates may be part of the company itself. These advocates mix professional and personal factors when talking about the product, which often makes them more passionate about it.
- Business Partners: Charities, organizations, and other companies affiliated with your company may also influence purchasing decisions. Strategically successful partnerships can be great fuel for these people.
- Influencers: They can be the most professional group of advocates, depending on their social media following and level of influence. And because there are so many different niches and follower types, influencers have the potential to extend your reach beyond your target audience.
- Customers & Prospects: Customers are the most important type of advocate for your business since they are actual users of your product or service. Because of their first-hand knowledge, their recommendation is even more genuine and influential to others.
Prospects can be a surprising but effective referral source as well. Even a convincing sales presentation that didn't turn into a sale can become the motivation for a referral. Read more about referrals and who can generate them for your company.
Why is a referral marketing program important for B2C companies?
When people consider spending a large amount of money on a purchase - such as buying a car or getting a new roofing or solar energy system installed - recommendations play a special role in the decision-making process. Most consumers have been spoiled by Amazon so they not only search online for reviews but they may seek out recommendations from friends before making that purchase as well.
Why is a referral marketing program important for B2B companies?
The higher the price tag, the higher the risk, and the harder a decision will be to make, especially in business-to-business (B2B) marketing. This is especially true when it's something that is hugely disruptive, such as integrating new software or a new payment system.
When making this kind of decision for the company, a recommendation from a highly respected person carries a lot of weight. Whether they be friends, family, colleagues, mentors, or business contacts, highly respected individuals carry the trust factor with them. Not only that, but prospects will approach the company with more confidence than they would if it were simply a name you came across on Google.
A business-to-business referral takes the hard work out of finding and vetting potential suppliers and provides them with a genuine account of what a product and its delivery has been like. The top benefit is that B2B referral marketing reduces the risk of the unknown and that's important, as everyone wants to make the right decision.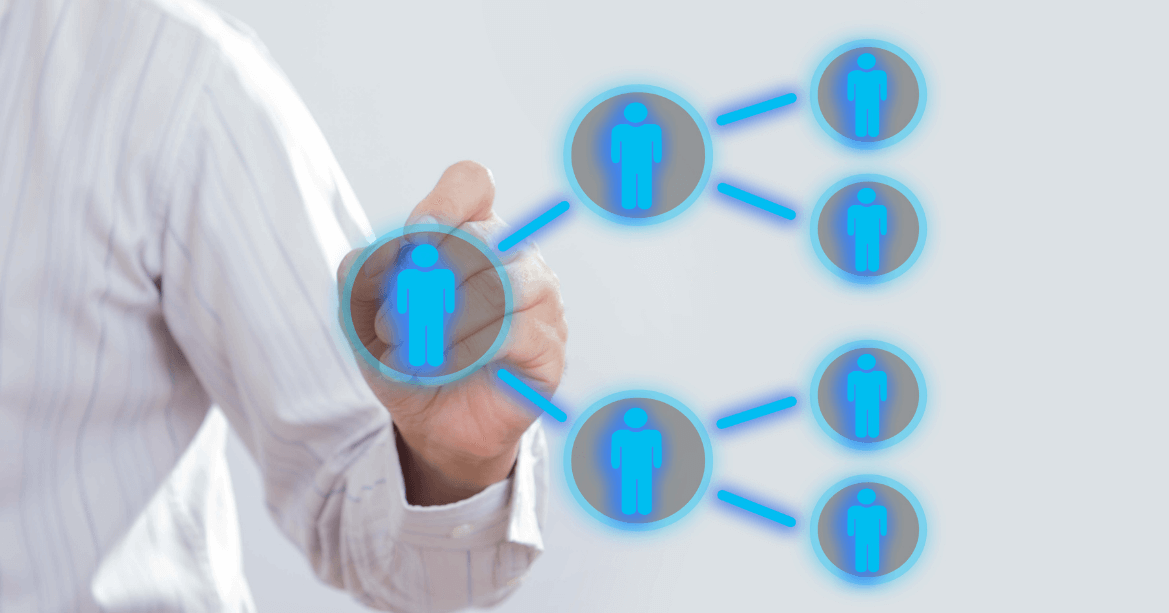 Why is a referral marketing program important for small companies?
Small business owners are busy wearing many hats and putting all their efforts to make it work. From sales to customer service, to marketing and office duties too - keeping track of everything involved in running a business can be challenging. Many business owners simply don't have a lot of time to think about customer acquisition and business development beyond traditional advertising. That's why referrals are so important for your business!
With referrals, you can transfer part of the marketing efforts to your customers, at a much lower cost than advertising. This will allow you to focus on providing a quality customer experience and mastering customer relationship management.
Read more about how to build referral marketing software for a small company.
Effective Referral Marketing Strategies
An effective referral marketing strategy will encounter:
1. First things first: Start or improve your formal referral program.
Of all marketing channels that a business uses, referral programs are among the ones with the highest return on investment.
Having a referral program makes it easy for people to make referrals: using referral software is a good option since it will help you track and manage the referrals. A good referral computer program can also offer options to reward the advocates for their efforts.

2. Provide customers with the best service they could ever ask for.
Customer service plays a major role in every business. People like to be heard, and they like their problems to be solved. One best practice for encouraging referrals is to provide top-notch customer support through a good customer relationship management system.
Three easy ways to make sure you have the best customer service in place are:
- Be responsive: stay on top of things. Don't let customers' comments and questions go unanswered for too long. As long as you show a little flexibility and sympathy, customers will be more understanding when there are issues.
- Be sincere: the more sincere you are, the better chance you have to make a customer happy, just like in any form of advertising. The tone you use, and the way you act towards both a new customer and an existing loyal customer, can either make or break their experience. Find the balance, be respectful, and be helpful.
- Be consistent: create processes so that all customers are getting equal attention. Set some standards for customer interactions. Make sure you have customer ticketing software in place that helps make things easier, like how Mailchimp uses a code to track which new customers are using the referral code from another customer, or centralize all the requests in one person/team, so it's easier to track and solve them efficiently. This is especially true for companies that offer software as a service (SaaS).
3. Show appreciation to the Advocates.
It's not a secret that everyone wants to be appreciated. But, it is particularly important to show appreciation to those who send more customers your way. If someone refers you, not only are they giving you a compliment, but they are ultimately helping your business. So first, thank them!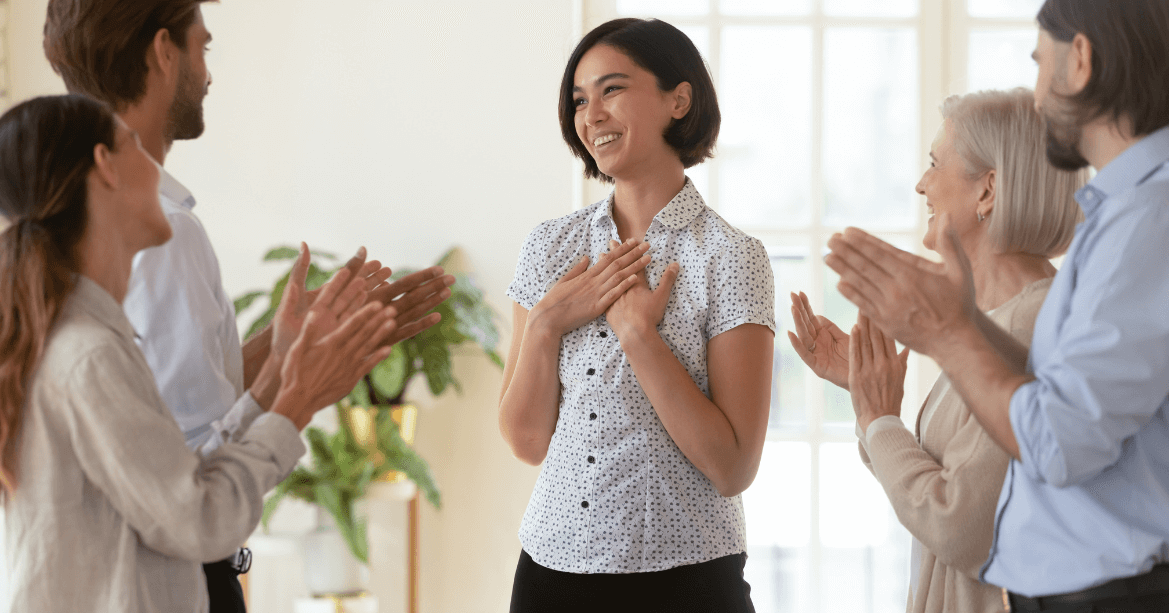 You can also go a step further and give them referral rewards for their efforts. Tesla famously grew from a startup to the biggest electric car manufacturer in the world thanks to its referral program, and the same goes for Mailchimp, which rewards customers for referrals. The same with others like Shopify, and Enterprise Rent-A-Car, although these last two focus more on form of referral marketing that overlaps with affiliate marketing or business-to-business marketing. You can offer different levels of incentives based on the quality of the referral.
For example, you can provide an incentive for any referral that results in a sales appointment (regardless of whether the referral makes a purchase). Then, you can offer a better incentive if one referral results in a sale, like a special product or simply better pricing. This is a great option for businesses that have a long sales cycle. Tesla currently offers 1,000 miles in charging to customers for every successful referral.
When you set up incentives this way, it helps you increase the quality of the referrals you receive since incentives are tied to it. Your Advocates will be intentional about bringing you the best names possible.
There are some other great examples of successful referral marketing programs growing a company from a startup to a leader in their industries. Like Harry's, a grooming company that is famous for their durable and cheap shaving razors. They came up with a Shave Plan membership, where you get constant razor replacements or shaving equipment at a discount. You get even more goodies if they invite friends to become Shave Plan customers. Even the friend gets a cash reward, a staple for a refer a friend referral marketing campaign.
And although Dropbox is now considered the leader in cloud file sharing, it wasn't always like that. They struggled at first until their referral marketing program of promising free extra storage for a referral, to them from 100,000 users to 4,000,000 in just 15 months.
Evernote, the note-taking services, set up an entire points program based on how much you refer.
Airbnb did something similar to Harry's, by giving big discounts to people who recommended the service, and then using a special code in the app to recommend to users friends who are more likely to accept a referral.
There's also a unique example in GoldieBlox, which makes toys designed to teach girls engineering skills. They offered 20% on the next purchase for any referral. It was a hit, in part because of the good cause the company represented. Another example of social currency at work in referral marketing.
Then, there's just giving your advocate cash, like eJuices, the online e-cigarettes distributors. They give discounts to new buyers who were referred to by an advocate, and the advocate also gets some cash.
Read more about how rewards can be very rewarding.
4. Engage your sales reps with your referral program.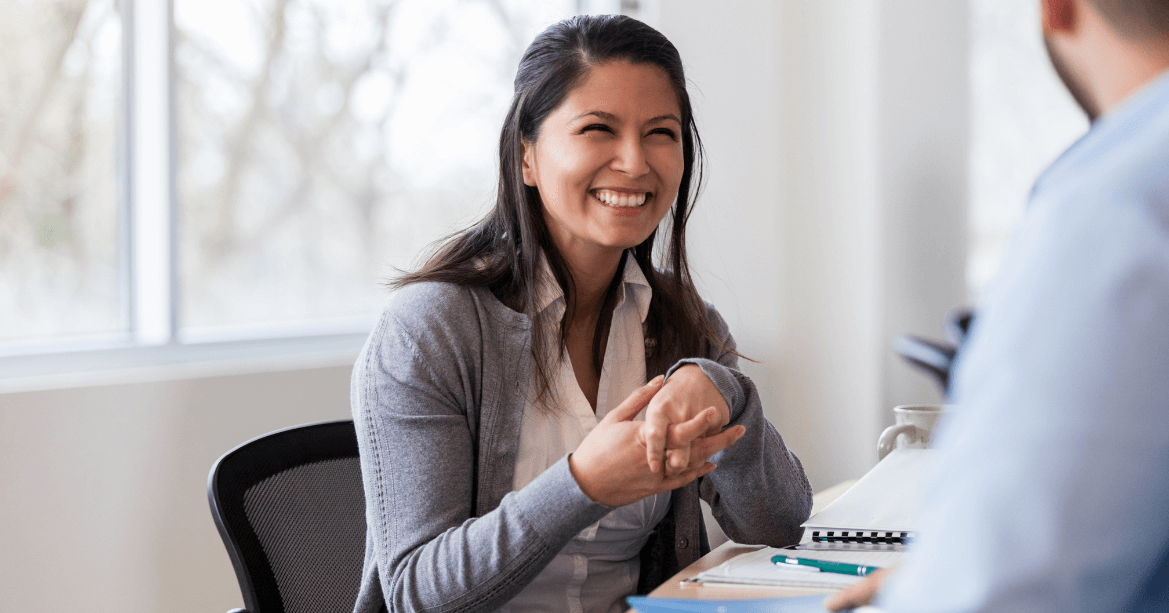 Sales Reps are a big referral machine, if they are not excited and vetted into your referral program, chances are it won't work. So one key best practice is to set up a meeting to discuss the new referral program and what it means for the company. They need to know that if the company is successful with referrals, then they are too. They need to receive proper training, be accountable, and be rewarded for their performance with referrals. Referral programs that are meant for businesses are especially in need of a good sales rep team, like those from Enterprise Rent-A-Car, which rewards businesses that refer customers to their rental service, and others like Shopify. Read more about how to engage your sales reps with your referral program.
5. Ask for referrals anytime, anywhere.
If you're afraid of asking for introductions, you're not alone. The mindset should be simple: You'll never lose business by asking for referrals, but you never know how much business you'll lose by not asking at all.
During the sales process, it's important to mention the referral program, so you can get referrals even from prospects. Once they become customers, it's essential to provide an excellent customer experience, so they will find it easy to refer the brand to their friends and family.
The furniture retailer Made.com depends completely on referrals anytime, anywhere, by connecting designers directly with customers and asking them for any type of referral.

6. Leverage the entire network.
Take advantage of the entire network, not only customers. As explained before, anyone can become a Brand Advocate: friends, family, employees, partners, influencers, and, of course, prospects and customers (not only current but past customers too).
7. Hold yourself accountable to numbers.
Don't just start asking for referrals: make a marketing plan, stick to it, and actually follow through. Failing to hold themselves accountable to numbers is one of the most common reasons salespeople don't get referral business.
The goals should be realistic and the use of a tracking tool is crucial, so use any web analytics tool that might help you, be it Google Analytics for traffic or others for leads. Holding yourself accountable to the company's referral marketing strategy will lead to a dramatic increase in sales.
Referral marketing business trends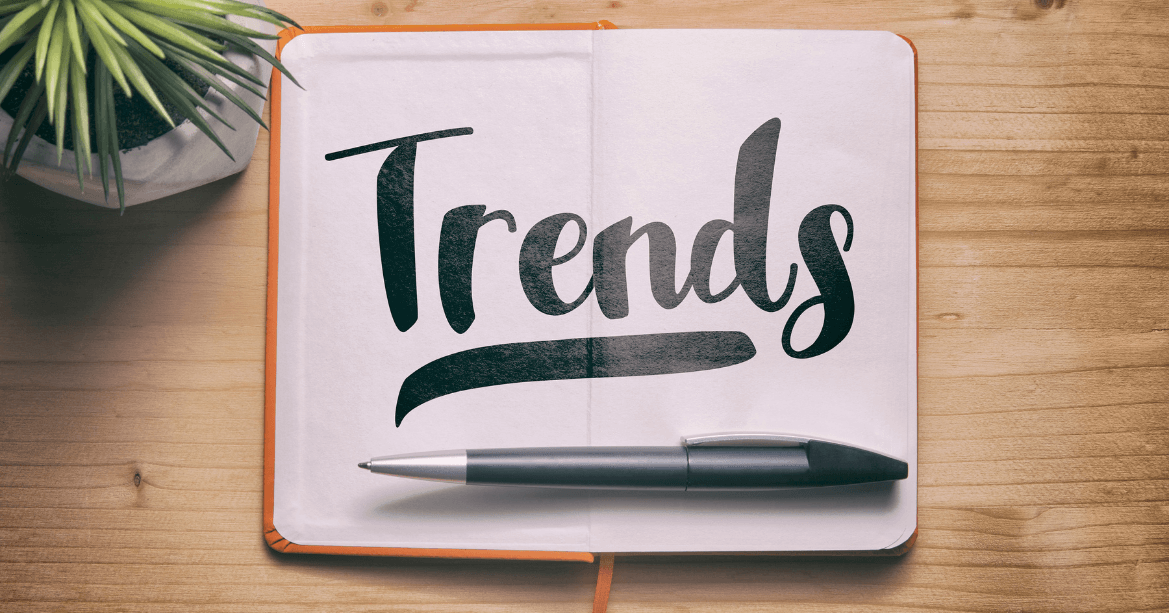 With your referral marketing strategy in hand, make sure that it's encompassing the latest trends in the market. It will help you boost your reach and elaborate your approach.
1. Social Media
One of the most powerful tools of the Digital Era is social media, especially in the United States. Statista Portal, North America has the highest social network penetration rate in the world. While the global average stood at 42% in 2018, North America is high at around 70%. In the United States, 77% of the population had a social media profile and the traffic of customers bases towards them just keeps growing.
Your business can benefit from social media in at least 3 different ways:
- Business Network: it refers to a group of business owners and professionals from related markets who promote and refer to each other to gain more sales.
Teaming up with related companies and using social media to promote and refer to those businesses will magnify the reach and strength of your brand. Great examples are solar companies that partner with other home improvement businesses such as roofing and refer each other to help customers close better deals. Or Shopify prides itself on a comprehensive affiliate marketing program for referrals among business owners who use their online shopping platforms. Paypal, after growing immensely with a generous referral program for customers, now limits its referral program to merchants and businesses, offering them discounts when using them for transactions.
- Customer Social Media: having your customers share their experience with your brand on social media (through posts, shares, and reviews) is one more endorsement you can achieve in the referral process. Consumers know their friends and families, so their words on social media can carry a significant amount of weight on people's decisions. It's a form of social currency, as in, people want to look good by buying a product or using a service that others recommend. This is very much what happened with the iPhone: as soon as it was introduced, having one became the most valued social currency in terms of tech to have. Plus, it increases engagement and traffic, even if you don't get those leads.
- Employee Social Media: your sales reps focus on working to close deals, get customers on board, and potentially have them referring to the company. But how about using their networking power to advocate for the brand? The more your sales reps promote the company on their social, the more chances you have to boost the sales funnel, with zero investment.
2. Mobile Environment
The best way to reach out and keep in touch with your customers is through a referral app, and there are two main reasons for that: In the U.S., 77% of adults own a smartphone. People who own smartphones spend over 80% of their time using apps as opposed to internet browsers (Source: Flurry).
Your business can benefit from having a customer referral app since it will increase their time connecting with your brand, consequently increasing the chances for referrals. One key point to increasing your customer referrals is to make the referral process easy, and that is what a customer referral app does.
Referral apps can serve many functions besides submitting referrals. Companies can send messages and emails, show new offers and promotions, etc. The biggest benefit of a referral app is to provide customers with the right process at their fingertips. And with push notifications, companies can get even closer to direct interaction from one consumer to the other.

3. Customization to Keep Top of Mind
If you think mobile apps are solely for big name brands you are wrong, more and more small and mid-size businesses are following the mobile trend, and understanding that an effective mobile strategy involves more than just a mobile-friendly website and a customized referral app can help a business be one step further competition.
Besides, it contributes to brand awareness: think about an app as a mobile billboard sign on your customer's phone screen that will keep reminding them about your brand and (indirectly) your products and services. Also, the more you communicate with your customers, the more engaged they get to refer you. Read more about why branded app marketing is so important.
IN CONCLUSION...
Developing a referral marketing channel strategy for your company takes work, but it will result in prospects that have a much higher probability of converting into customers—loyal customers, even. And with happy customers, you are halfway through succeeding with your new businesses.
Take a close look at your current referral program and make the necessary changes to implement referral best practices, so you and your customers can experience the full benefits that a top-notch customer referral program has to offer.