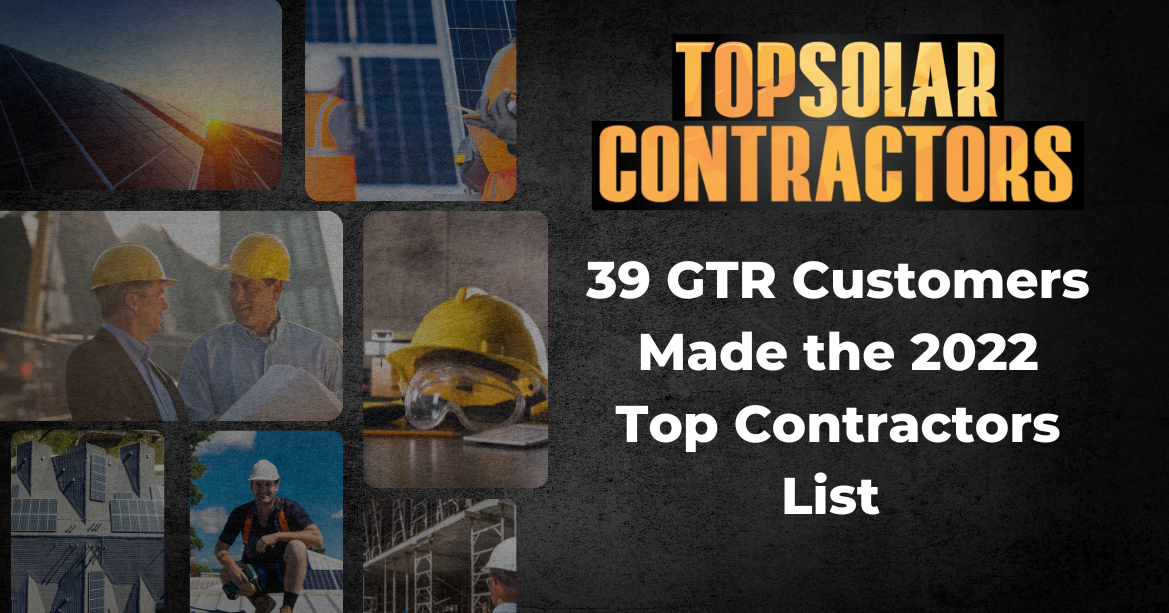 Solar Power World and the Top Solar Contractors List for 2022
Solar Power World is the industry's leading source for technology, development, and installation news. Every year they publish the Top Solar Contractors List, a comprehensive list that ranks applicants according to their influence in the U.S. solar industry. The 2022 list was just released last week, ranking the top solar contractors in 2021.
Congratulations to all of the Contractors that made the list this year!

The list ranks them nationally and provides the company, name, headquarters state, primary market, primary service, and KW installed. Although the companies choose their primary marketing and primary service, they could still work across different markets. GTR focuses on residential solar companies, so we looked closely at this group in particular.
GTR Customers from the Top Solar Contractors List
Of the 236 residential solar companies, we found that 39 of them are GTR customers. This means that 16% of these Top Solar Contractors are using their own branded mobile app and cashing in on the power of referrals.
GTR's Top Solar Contractors' Results
The Top Solar Contractors that are also GTR customers are not just companies that are influential in the U.S. residential solar market, they're successful on many fronts. Of the GTR customers on this list, we reviewed their data over their time with our company and found:
* The average time a customer is with GTR is approximately 2 years and 10 months, with the newest customer being just 2 months and the most established customer being a little more than 7 years. We've found similar results in our recent ROI data analysis. Success with referrals and our platform can be achieved in just a few months, and can then carry on for years.
* Our customers saw an average of 1,015 advocates. Advocates are the number of customers, friends, colleagues, co-workers, family, and everyone else that shares how what your company is offering with others. Imagine over a thousand people were sending your business referrals.
* Our customers saw an average of 167 referrals sold. That translates to about 13 - 14 referrals per month. Consider your average project or deal cost, and then multiply it by 13 so you can better understand what this could mean for your business. Example: $12,000 average deal cost x 13 = $156,000 additional revenue per month.
* The average Return On Investment (ROI) for these customers was an unmatched 68X. In other words, an average of 68 times what is spent on our platform is gained back in revenue simply by using it. This yields an average of more than $2 million in revenue, an amount any business could be proud of.
Want to be on the 2023 Top Solar Contractor List? Set your goals and let us help you reach them! We'll help you build a steady pipeline of high-quality leads that convert at a higher rate and yield an unmatched ROI. Book a demo today below.
Find the full Top Solar Contractors of 2022 by Solar Power World here.