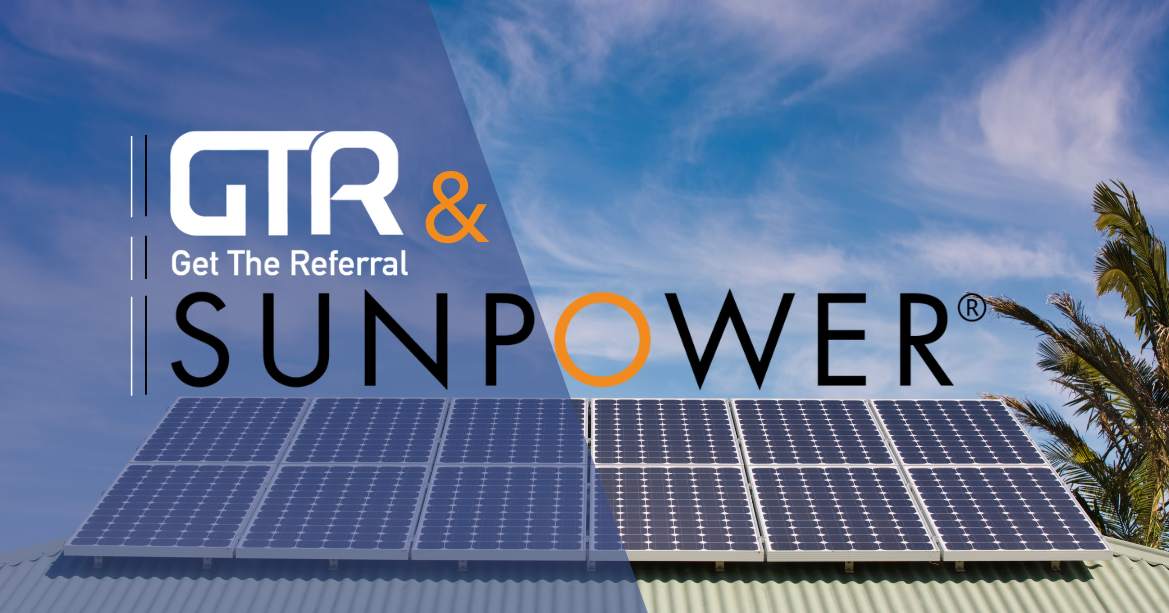 Get The Referral (GTR) understands that when a customer chooses to work with the SunPower network of solar power dealers, they can count on their "local solar installer to provide the highest standard of quality and customer service when it comes to installation of their home solar panels." GTR's own focus on quality customer experiences allows us to offer the perfect compliment to the excellent service that SunPower dealers already provide.
The GTR platform provides dealers with their own branded mobile app, helping them stand out amongst the competition. The app makes a professional impression, and it makes it easy for prospects and customers to communicate with the dealer directly. The app also provides easy access to more information about what's being offered, important documents, and the company website. When a prospect transitions to a customer, the automatic push notifications that provide updates on their project status, and the ability to use the in-app messaging tool to communicate when desired, makes their customer experience a uniquely satisfying one.
A quality customer experience, however, is just part of the solution that GTR offers. Our platform also provides a robust referral program that comes with built-in tracking, analytics, and reward payment processing. GTR empowers Sunpower dealers to provide a high-touch, quality customer experience while they deliver the highest standard of quality and customer service home solar panel installers can provide. The referral program features enable customers to share their experiences with others in their network easily through text, email, and even social media. Offering a reward for referrals incentivizes customers to become advocates, making the transition a win-win situation. As a result, the system creates a steady pipeline of high-quality leads for SunPower dealers to work consistently.
Here are some of our SunPower dealer stats from 2021:
* 120 SunPower dealers
* 80,000+ Referrals Generated
* 15,000+ Deals Sold
* $300+ Million in Gross Revenue
The GTR platform also has an online backend dashboard that makes managing a company's referral program easier than ever. In a recent interview with Sun-N-Us (a SunPower Dealer and GTR customer) Operations Manager, Becky Schweig talked about how little time is needed to use our platform effectively. "I have 30 minutes on Mondays that I hop on and just review anything for payment. Other than that, our reps are encouraged to be self-sufficient with it," Becky explained. She also shared that "a lot of our Heavy Hitters and our larger sales reps have definitely used it" which is evident in their numbers of over 400 referrals and an average of 4-5 referrals deals sold per month.
If you'd like to create a customer experience that matches the quality of service that SunPower dealers are already known for, GTR can help. Your own branded app will create a customer experience that you can be proud of, and it has the ability to become a high-powered lead generation tool that creates a more predictable pipeline.