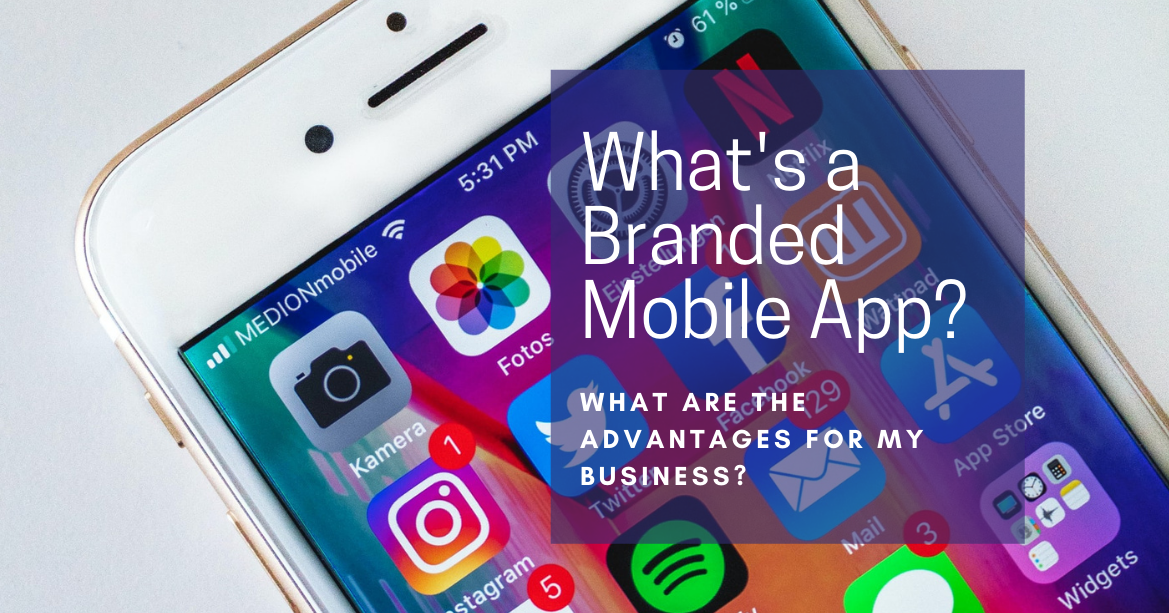 According to AtInternet.com, "A branded app is a mobile application created by a company to promote its brand. Branded apps typically reflect the brand's identity and feature its values, colors, logo, visual identity and style, slogan, and more."
With this definition in mind, think about the branded platform apps that we use every day from companies like Facebook, Instagram, Zoom, etc. Mobile apps have become such a big part of our lives that we may forget that smaller companies can use them strategically to increase brand awareness and enhance customer loyalty.
Do you have a branded app for your business? If not, it's something you should think about. 80% of Americans own a smartphone (Source: comScore), so having your company's branded app on your customer's smartphone gives you prime real estate - keeping you top of mind.
Most companies will not launch the next significant social networking or micro-blogging platform app. Instead, they prefer to use platform apps like Facebook and Twitter to connect with their audience where they spend their time online. Branded apps, however, can be used by small-to-medium-sized companies effectively as well. Here are a few different app forms that you may already be familiar with:
A simple info-based mobile application. It's useful in that it features information, articles, and other content from the company's website. These apps are a basic option for any kind of business.
A mobile app game. People love games so this kind of app is fun, but it isn't usually the best choice for long-term retention efforts unless you're in the sports or gaming industry. People get bored quickly.
An app that's an extension of your service. Apps that enhance a customer's experience with your company and support your communication efforts can be powerful. People are driven to return the app often and stay engaged.
If you're ready to compete in today's digital world, then the answer will likely be yes. However, you should consider a few questions first - Who will be using your app, and for what purpose? Will it be for current customers, new customers, or prospects? And what will make your app unique? How will it benefit users? When considering the different types of apps noted above, keep in mind that an app that functions as an extension of your service will usually be the most impactful for your business.
A branded app designed to enhance your customers' experience can offer tremendous value by staying connected directly with users in a helpful, positive way. Think project status updates and automatic appointment notifications. Removing the need to manually contact each customer to notify them of updates or remind them about appointments saves you time and money. Your communication efforts will not be compromised by the mobile app, but rather enhanced from your customers' perspective.
Having your own branded app offers an opportunity for your company to stay top-of-mind. From in-app messaging to Customer Relationship Management (CRM) to inviting referrals - your app can become a communication hub between your company, your team, and your customers. It's not about popping ads up all over the internet. It's about finding creative, consistent ways to communicate with your customers while delighting them with your products or services.
What's different about Get The Referral's custom branded apps?
GTR specializes in creating custom branded apps for solar, roofing, and home improvement companies. Our custom-branded apps are designed to grow your business, and they offer a powerful opportunity to improve your customers experience. More than just access to the same information on your website, our mobile app is an engagement and communication tool with the power to amplify your referral network. Here's a bit more about the unique features you get with your GTR custom-branded mobile app: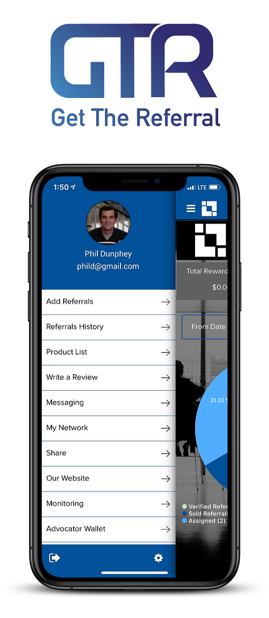 1 - In-App Messaging - This feature is a crucial component of your customer communication and engagement. You can easily keep customers updated and engaged by sending SMS messages or one-way push notifications. 97% is the read rate for push notifications, whereas emails only have a read rate of 5% (App Institute).
2 - Project Status Updates - This feature allows your customers to track the progress of their solar, roofing, or home improvement projects according to your specified stages. This eliminates the need for you to call or email those customers with updates, saving you both time and money.
3 - App Integrations - When you get your custom branded app from GTR, we bring your website into the app, allowing your customers to access all of the information they could find online. We integrate social sharing and review options directly in-app, making it that much easier for your customers to share or review your business. We also offer seamless CRM integration or the opportunity to use the built-in-app CRM as your stand-alone solution, if desired. Finally, we offer solar monitoring system integrations for solar companies, making it super simple for customers to monitor their solar panels from within your app as well.
4 - Customer Resources & Document Storage - We make it easy for your customers to schedule your services, access your FAQs, receive answers to support questions, make payments, and more. Your customers will also be able to access all of their essential documents in one place. You can use document storage to store contracts, invoices, warranties, pictures, and even videos - all within the app.
5 - Power Up Your Referral Program - The most powerful feature for your bottom line, a custom-branded app from GTR will take your referral program to a whole new level. If you don't have a referral program, this makes launching one a cinch. Advocates, or those who refer your business, can easily send referrals, import referrals directly from contacts in their phones, and track their referrals statuses too. We also offer referral payment integration through Advocator Wallet. The payment integration allows you to pay your advocates automatically through the app in four different ways: direct bank account transfers, digital gift cards, virtual debit cards, or even a charitable donation. The ability to generate referrals seamlessly is real. Calculate your ROI.
We know there are a few different types of branded apps to choose from, but the one that makes the most sense for a solar, roofing, or home services company is one that enhances your customers' experience. The ability to stay top-of-mind, send automatic updates, power up your referral program, and communicate directly with your customers will bring your business to an entirely new level.
To learn more about the value GTR's custom-branded app can create for your business, schedule a demo with the button below: