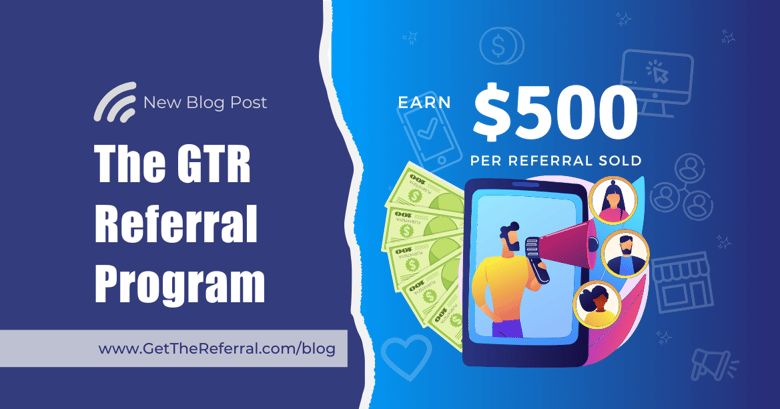 Everything You Need to Know About the GTR Referral Program
We've made some awesome upgrades to our referral program, including a refreshed app with our updated app UI (launched in 2021), awesome referral reward amounts, and a dedicated program manager. We are excited to re-energize our employees, our partners, our customers, our Advocates (those who send us referrals), and anyone else who wants to earn great money while helping us on our mission to help small and medium-sized businesses grow and thrive. Now, you can learn everything you need to know about our exciting new Referral Program below.
Table of Contents:
I. Why are we relaunching our Referral Program?
II. What Referral Rewards can I earn?
III. How do I collect my Referral Rewards?
IV. How do I participate? How does the new program work?
Why are we relaunching our Referral Program?
A few very important reasons, which we get into below (#1-3), but the most important reason is that we believe in what we do. We believe in the power of referrals and the importance of providing a quality customer experience. We're putting our money where our mouth is and putting our faith in the process that we've created and optimized. Here's more:
#1 - Our referral strategy has been tested and proven. Our founder and CEO, Jamey Vumback, started GTR when he was co-owner of his own solar company back in 2013. He built the GTR app and the referral system out of a need for his own business - and it worked! It worked so well that he took his referral rate from 20-30% to 70-80% and created GTR - the company. Now, we have over 550 customers worldwide!
#2 - The power of referrals is undisputed. Leads from referrals have a 30% higher conversion rate than the leads generated from other marketing channels, and in terms of lifetime value, they're ahead by 16% when compared to others. (Ross) The evidence is clear where the best "leads" come from.
Referred customers have a 37% higher retention rate when compared to other customers gained through other marketing channels.
#3 - A regular review of your referral program is recommended. If you're one of our valued customers, you may be familiar with our quarterly review process: Start-Stop-Continue. Our Customer Success (CS) managers review each customer's referral program performance quarterly and then they meet with their account manager.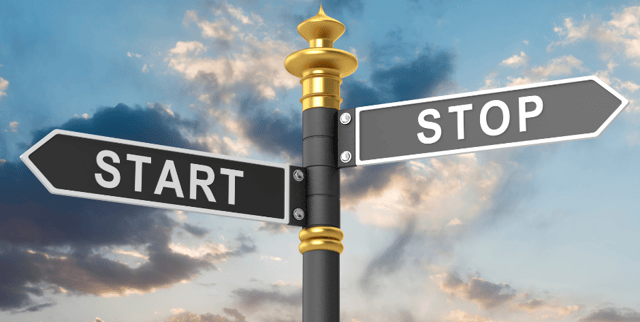 We Start new activities that our team finds will further benefit your program and your business. We also look back at the performance of the previous cycle and Stop what is not working. Finally, we Continue what is working after identifying the things that worked in the previous cycle and need to become part of the team's core activities.
We did our own review and decided on a complete referral program upgrade! Our GTR team has grown so much since this time last year and we've got some pretty ambitious goals for the future, so upgrading and launching this new program was the right choice for us.
What Referral Rewards can I earn?

GTR Advocates will get paid $50 for every qualified referral, which are any referrals that meet online with the GTR team.

GTR Advocates will also get paid $500 for every referral sold, which is any referral that ends up signing up as a GTR customer.
Let's do some simple math... Let's say you sent 7 total referrals. Then let's say only 5 of those referrals followed through and talked to one of our team members about how we could help them with their business (not every referral will be a winner). That means 5 qualified referrals at $50 each = $250 for you. Then if 3 of those 5 end up deciding GTR is right for them, that is 3 sold referrals at $500 each, for you. Here's the breakdown:
5 Qualified Referrals = $250
3 Referrals Sold = $1,500
Total Reward Earnings = $1,750
You just made $1,750 total for sending just 7 referrals and not all of them had to become a customer of ours. Oh, and there's no limit to the number of referrals you can send, making this an opportunity with huge earning potential.*
How do I collect my Referral Rewards?
You will be paid through the app. The GTR App allows you to transfer your money directly into your bank account, or receive payments in the form of digital gift cards, or prepaid VISA cards.
How do I participate? How does the new referral program work?
It's FREE to participate in the new GTR Referral Program. Anyone can become a GTR Advocate

(a member of the program who refers us) and earn rewards for the referrals they submit. Anyone interested can sign up for the GTR Referral Program here while submitting your first referral.
Follow the Steps Below to Become a GTR Advocate:
#1 - Download the GTR app from the Apple App Store or Google Play Store. Please sign up for your GTR Advocate account using your best PERSONAL email address.
#2 - Refer. Once you've downloaded the app and signed up, you can submit any contacts you believe would benefit from GTR's software and services.
#3 - Share the program across your social networks from within the app, and receive credit for anyone who signs up using your custom referral link!
Those who don't use smartphones can participate as well. You can also submit referrals through a desktop version of our app! Anyone interested can sign up for the free GTR Referral Program here and submit their first referral or can contact GTR for more info.
We hope that you're as excited as we are about the launch of our new Referral Program. It is designed to be an extremely lucrative opportunity for anyone looking for a little extra income. Are you ready to join? Click below:
Any businesses interested in learning how GTR can create a similar program for your organization can sign up for a demo below.