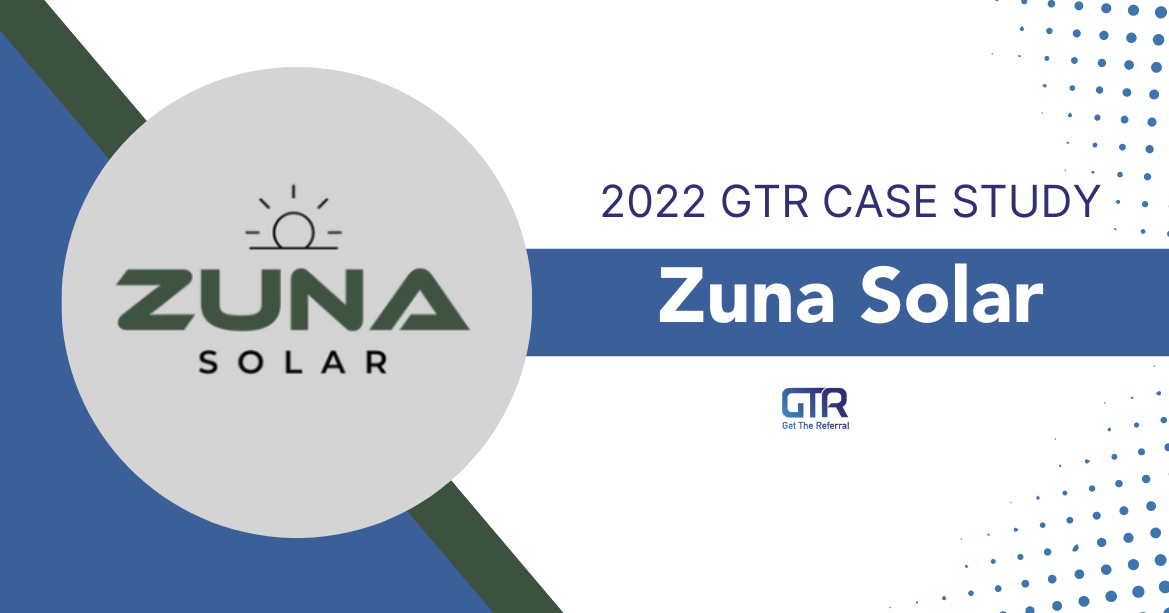 Zuna Solar is a family-owned company of world-class solar products. They were looking for a platform that could provide what they needed to jumpstart their new company and enhance their customers' experience. Since implementing GTR, their branded app has become a huge factor in the success of establishing their company, resulting in 95 referrals and a 16X return on investment. This case study highlights Zuna Solar's success with our platform

The Story of Zuna Solar
Zuna Solar is a Texas-based company that has a passion for bringing clean and affordable energy to all. They strive to empower people to change the future in regard to how the planet is powered. Zuna has also partnered with One Tree Planted to plant 25 trees for every home that goes solar.
Being quality-driven, Zuna Solar focuses on the people, the product, and the process--making decisions that will only benefit their customers and employees. They are committed to providing a world-class product that focuses on the product that is installed, the warranties they offer, and the enhanced customer experience they strive to provide.
The Challenges:
Zuna Solar was looking for a platform that was able to provide an enhanced customer experience, strengthening the overall establishment of the company. They searched through many platforms, however, none of them matched the company's needs. When Zuna Solar found GTR, our platform matched everything they had envisioned in their minds. GTR became the one-stop-shop solution, providing them with a way to enhance customer experience and legitimize them as a company. The in-app features being offered to their customers (such as easily sending referrals and social sharing) gave Zuna Solar the capability to easily expand their newly developed company.
We created this platform because we understand the importance of an enhanced customer experience. We know that a great customer experience can make or break a company. It can mean the difference between a customer returning and referring others, or never coming back at all. We also know that happy employees lead to happy customers. That's why we've designed our platform to help the sales team deliver the best possible experience to customers. By making it easy for employees to find the information they need and access the tools they need, they can focus on providing an exceptional experience every time.
Check out the Case Study Interview highlight video below:
Why Zuna Solar Chose GTR
When Zuna Solar first found GTR, they were focused on finding a platform that could deliver a great customer experience and create an organized referral program to help their business grow. Dallin explained "the biggest thing is that a lot of times in solar, a customer gives a referral and referrals fall through the cracks" GTR provided a way to organize their referrals.
When it came down to the final decision of choosing GTR, it was the fact that GTR offered them their own branded app with the ability to create a great customer experience, and manage their referrals in an organized manner. The app "helps streamline and organize everything for the sales reps, for the company, and the customers. You can either spend your time prospecting or you can spend your time leveraging your current sales to generate more sales." GTR focuses on generating leads and referrals by giving customers all the tools they need to have a successful experience with the company.

How Zuna Solar Uses the GTR Platform
Dallin explained that Zuna solar provides marketing videos for each customer. They create a video by flying a drone over every house before and after the solar installations. The video highlights Zuna Solar's quality work and solar panels. The customized marketing video is then given to the customer as a way for them to share their experience with Zuna Solar and show off their newly installed panels.
Once Zuna Solar has completed its work, they then set up a meeting with the client called the "Zuna app visit." During this visit, they go over their branded app once again and show their customers how they can generate referrals and get paid. They also go over key features such as setting up their monitoring and showing them how they can easily access their documents. Zuna Solar also attaches the personalized drone video to the customers' app and shows them how they can use this drone video to get referrals. This innovative way of thinking has helped Zuna Solar generate about 95 referrals!
Social Sharing
Zuna Solar customers have the ability to easily share their customized drone videos with their friends and family through the social sharing app feature. By simply clicking on the share button, they are given personalized referral links to all social media platforms, where they can post their video and write their experience.
Documents
This feature is designed to make it easy and convenient for customers to access their important documents. Zuna Solar uploads customer documents (such as invoices, warranties, etc.) directly into the app, ensuring that customers have everything they need in one place, for easy access.
Monitoring
With the monitoring feature, Zuna Solar customers can now track their energy production. This is a great way for customers to see how much energy their panels are producing and how it fluctuates throughout the day. They can also use this information to make adjustments to maximize their energy production.
The Results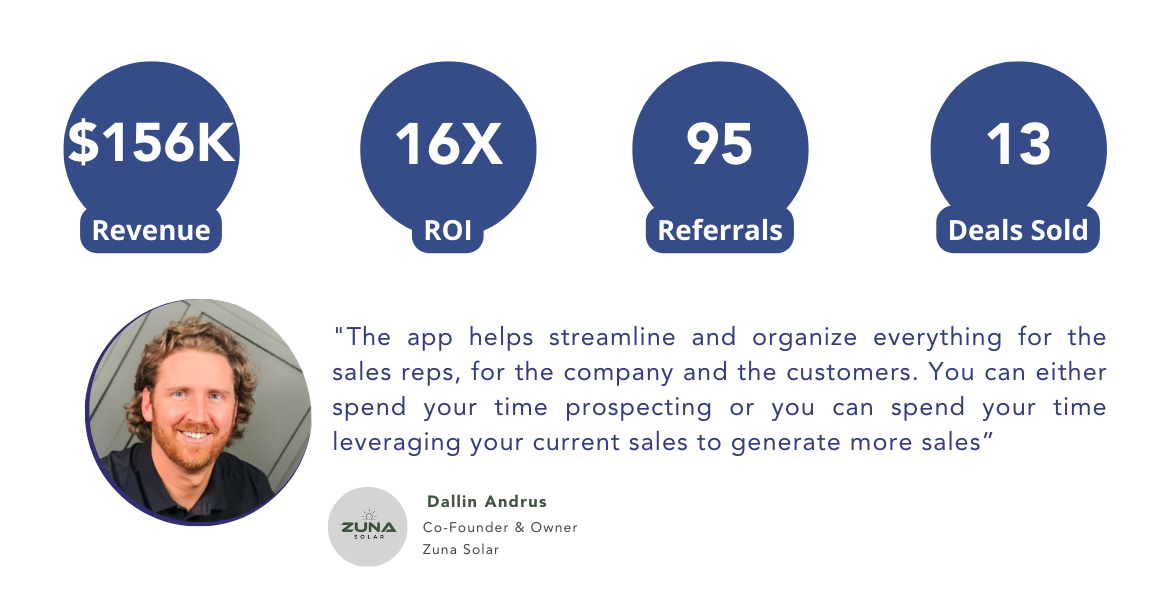 Since Zuna Solar joined the GTR family 1 year ago, Zuna Solar has been able to gain 510 Advocates, 95 Referrals, and 13 Deals Sold. This data shows they are averaging about 1.1 Referral Deals per month with a 16X Return on Investment (ROI). That has created an additional 156k dollars in revenue for their business!
Now, consider what these numbers could mean to your business. Could you use more referrals? Could you use an additional 156k dollars in revenue? Click the button below to find out what GTR can do for your business!
Would you like to share this Case Study with a business partner or colleague? PLEASE SHARE and download the Zuna Solar Case Study one-page pdf version here.