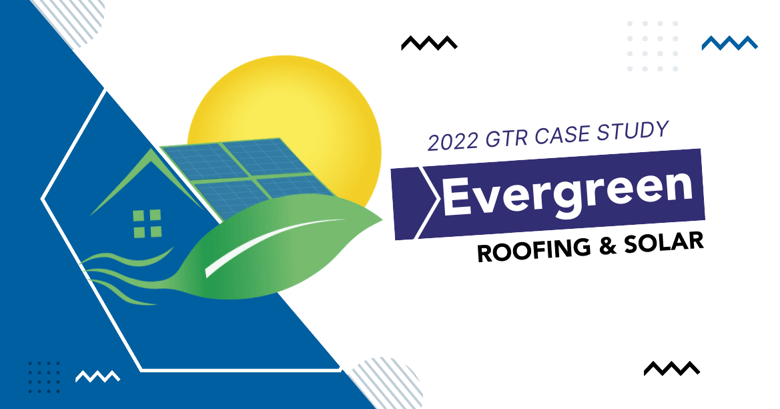 Evergreen Roofing and Solar is a leading construction company and provider of energy-efficient solutions. They were looking for a platform that could provide what they needed to start a successful referral and affiliate program. After finding GTR, their branded app became a huge factor in their program's success, resulting in 573 referrals and an additional $2 million in sales. This case study highlights Evergreen's many successes with our platform.

The Story of Evergreen Roofing & Solar
Officially known as Evergreen Building and Construction Corp, this company is a complete environmental and renewable energy conscious construction company that operates in the states of Florida, Alabama, and Louisiana. An experienced company, they focus on providing energy efficiency solutions, cost-effectiveness, and customer satisfaction.
Evergreen offers metal and asphalt roofing, as well as solar fans and panels. But as a company that's focused on satisfaction and offering comprehensive solutions to its customers, Evergreen wisely chose to also offer HVACs, insulation, energy-efficient windows, and hybrid water heaters. The company's success is due in large part to its strong customer focus, as well its dedication to quality, design, and reasonable prices.
The Challenge: No Referral Program
Evergreen's team began looking for an affiliate program solution for their business and actually tried a few different platforms before GTR. However, "none of them worked the way [they] were expecting." So, they began searching on Google for a better solution for the Evergreen affiliate program software needs when they found us.
Referral programs are very similar to affiliate programs in that someone else (i.e. an advocate or an affiliate) is sending you "leads." However, referral leads carry an extra element of trust that makes them more powerful. People usually trust the opinions of friends and family, especially if they have tried the product or service themselves. Because of this trust factor, referrals usually convert to customers at a higher rate than affiliate leads.
Customer advocates send referrals by recommending the company and then advocating for them based on their experience. Affiliates are not always customers, so they do more preselling than advocating from experience. The beauty of our platform is that it's set up for referral programs but can be used for affiliate programs as well. Our social sharing tool is a great way to amplify both.
Check out the Case Study Interview highlight video below:
Why Evergreen Roofing & Solar Chose GTR
When Evergreen first found GTR, they were very focused on creating a solid affiliate/referral program to help their business grow. GTR definitely provides a fantastic solution for that, but our platform offers so much more in the form of communication and customer experience. The core component of our platform is the mobile app, which functions as a tool to connect you with customers and advocates in the most powerful ways.

When it came down to the final decision, it was the fact that we offer your own branded app with all of its features and functionality. "The app was game-changing for us," Mr. Ramo explained, "it looks professional and it stands out. People can send a referral, get paid, track their project, send a review, communicate with the team... everything is all in one place." In addition, we also provide an online dashboard that is "user-friendly" and "intuitive" with the option for additional customization if even more simplification is desired.
"70% of Our Sold Deals Now Come from Referrals." - Andre Ramo, Evergreen Roofing & Solar
How Evergreen Roofing & Solar Uses the GTR Platform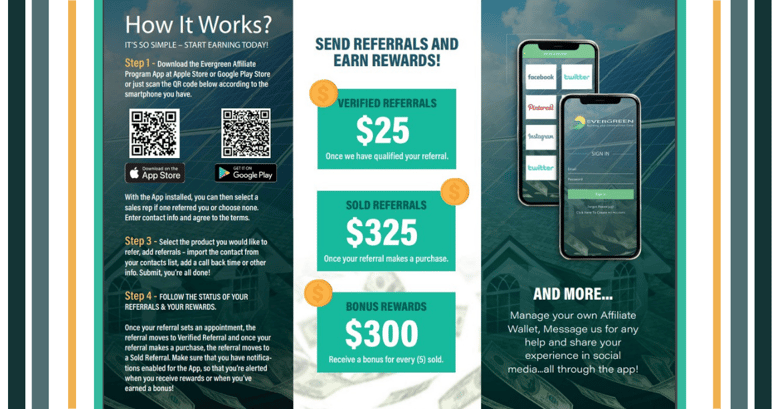 In 2022, Evergreen Roofing and Solar has an entire department dedicated to their referral and affiliate program, which has boosted their growth significantly. The Evergreen sales reps now have the branded app with them in the field, ready to show to homeowners they meet with. Prospects and customers can download the app for free with no obligation, and they can even learn how to use it by watching the how-to videos inside. It's easy and new connections are made quickly.
The Evergreen Referral & Affiliate Program Details
Evergreen asks their new customers to immediately sign up as an advocate using their branded app. For completing this simple free task, that customer receives a bonus in the form of two (2) sheets of wood to go toward their build (a $200 value). Evergreen also holds monthly contests for the highest number of referrals offering a $500 bonus to the winner.
Evergreen pays the following referral rewards to its advocates:
* $25 is paid for each contract signed (Verified)

* $325 is paid after the first payment is received from the customer (Sold)

* $300 bonus is paid for every 5 Referrals
The Referral Rewards Payment Gateway
Evergreen attributes its program's success to the referral reward incentives they offer. When it comes to rewards, people prefer money above all else. The Evergreen team acknowledges the importance of cash rewards and prompt payment by using the app's Payment Gateway.
You can see an overview of this feature by watching the video below highlighting GTR's own Referral Program. If you'd like to check out the feature yourself, you can download the GTR app and become an Advocate. We pay $1,000 for every referral sold! Check out the video below and don't forget to book a demo for the next steps to your own company's success with GTR:
The Results

Since they joined the GTR family 13 months ago, Evergreen Roofing & Solar has been able to gain 525 Advocates, 573 Referrals, and 198 Deals Sold. This data shows they are averaging about 9-10 Referral Deals per month with a 151X Return on Investment (ROI). In addition, referrals now account for 70% of Evergreen's sold deals. That has created an additional 2 million dollars in revenue for their business! Their next goal is to take their program viral.
Now consider what these numbers could mean to your business. How would closing 9-10 additional deals each month impact your business? Could you use an additional 2 million dollars in revenue? Click the button below to find out what GTR can do for your business!
Would you like to share this Case Study with a business partner or colleague? PLEASE SHARE and download the Evergreen Roofing & Solar Case Study one-page pdf version here.