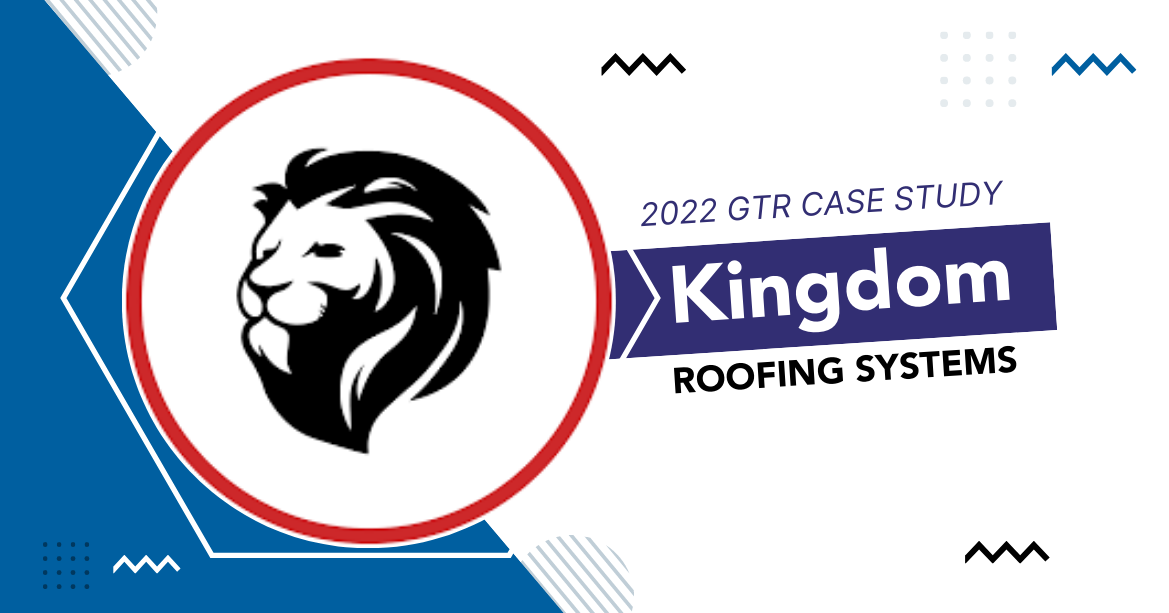 Kingdom Roofing Systems is a multi-million dollar residential and commercial roofing company that needed help with managing and optimizing its referral program. After their outdated referral system grew increasingly inefficient, they turned to GTR as a way to streamline their referral process. With more than 150 referrals and over $1 million in sales since starting with GTR, this case study highlights Kingdom Roofing Systems' success with our platform.
The Story of Kingdom Roofing
A family-owned and operated business, Kingdom Roofing Systems was started in Indiana by co-founders Daniel Young and Ryan Martlage. Customer-focused, the company stands for PRIDE - People, Reliability, Integrity, Development, and Excellence.
Kingdom delivers unparalleled residential and commercial roofing industry excellence and has grown into a successful $16 million company. Through profits, they also commit time and materials for at least four roofing projects a year for charitable organizations like Habitat for Humanity.
The Challenge: Managing & the Referral Program
Kingdom Roofing is not your typical roofing company. Far from relying on just "old school" door-knocking, they've been called a "lead generating machine" because of their 75+ different lead sources. Kingdom also has its own marketing team and uses an outside agency for help with paid advertising. The challenge was their referral program.
Before GTR, Kingdom was managing its referral program by spreadsheet, a process that had become cumbersome and "archaic". They would have to consistently update and check that spreadsheet to ensure all referrals were entered and that all advocates had been successfully paid. It became a problem. Kingdom was looking for a way to streamline their entire referral program process - from promotion to management to payment. Luckily, their outside marketing agency - Webrunner - is also our business partner and they knew we could help them. That is the power of referrals in action!
Check out the Case Study Interview highlight video below:
Why Kingdom Roofing Systems Chose GTR
Kingdom was referred to GTR by our partner and top-notch contractor marketing agency, WebRunner. As Kingdom explored its marketing strategies with Webrunner, we were recommended as the solution to their referral program management problems.
Even though streamlining its referral program brought Kingdom to GTR, the company-branded mobile app became just as important a factor in their decision to purchase. Kingdom reports that its customers are consistently impressed by the fact that they have their own mobile app in the app store that includes project status updates, in-app messaging, social sharing, and more. Plus, customers that become advocates also know they'll get paid quickly following each referral that they send that results in a completed appointment.
"It's One of the Easiest Decisions We've Made." - Donald Beal, General Manager
How Kingdom Roofing Uses the GTR Platform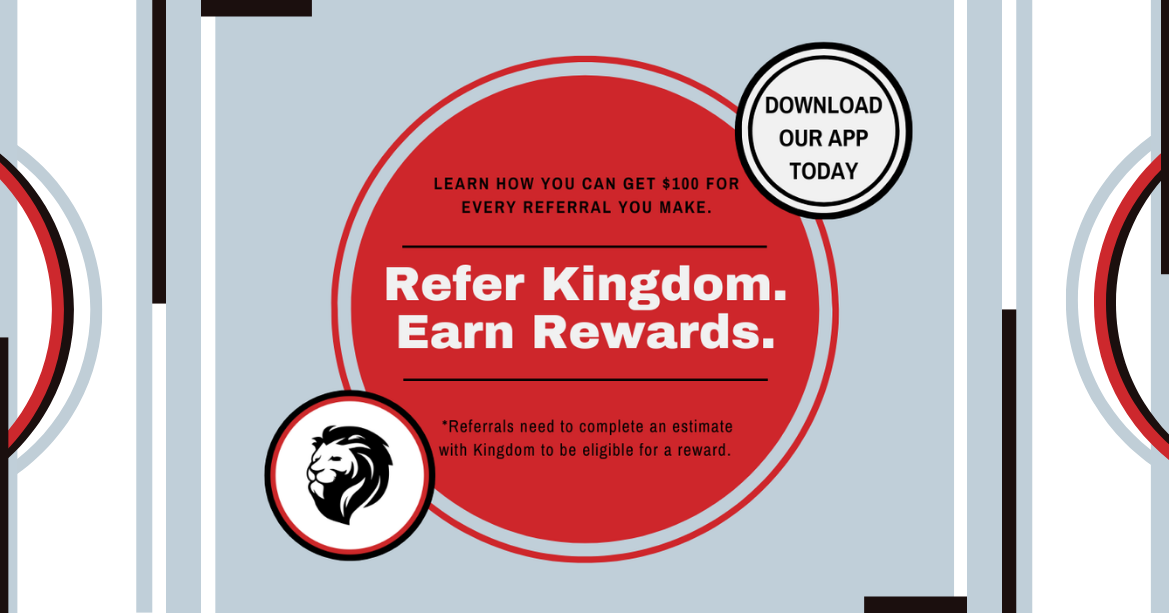 Kingdom's Referral Program pays a $100 referral reward after every referral appointment is completed. They don't just reward advocates for referrals that become customers (i.e. referrals sold) and yet they have found that their cost per acquisition (CPA) is good and cost-effective using this system. Kingdom also reports that the management of their referral program has been streamlined and simplified since becoming a GTR customer. We never get tired of hearing how much we've helped our customers save time and money!
The Project Status Tool
The Project Status Tool allows Kingdom to update their customers on their project status automatically - no need to email or call them. Plus, they have also integrated their app with their Customer Relationship Manager (CRM) for ease and consistency in their reporting. For projects with multiple stages, customers are notified through the app as they progress toward project completion. The feature reduces the number of emails and phone calls Kingdom has to make, resulting in the whole process being easier for everyone. Check out the overview video below for more information on this powerful feature: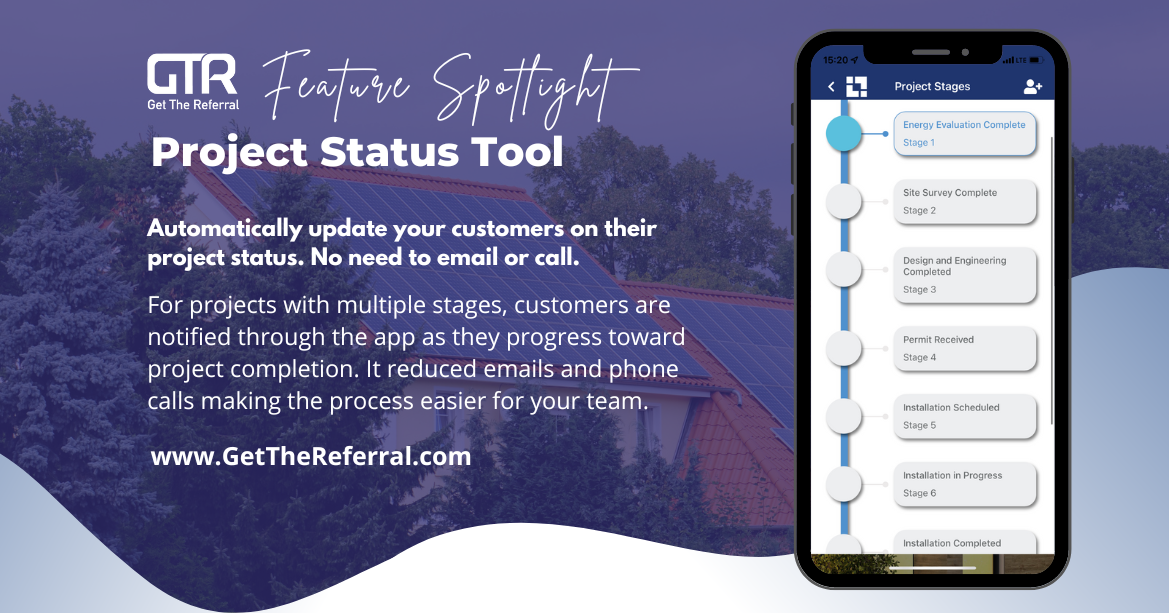 The Referral Rewards Payment Gateway
Kingdom exclusively uses the payment gateway to pay referral rewards to their advocates. The simplicity of being able to get paid right from within the app is loved by most people. Once an advocate gets their notification of a reward being paid and made available to them, they can then choose from a few different ways to access their funds. They can transfer their reward funds to their bank account. They can get a virtual Debit Card with the funds on it, or they can use the funds to buy gift cards from a wide variety of places. Ease, consistency, and reliability.
You can see an overview of this feature by watching the video below highlighting GTR's own Referral Program. If you'd like to check out the feature yourself, you can download the GTR app and become a GTR advocate. We pay $500 for every referral sold! Check out the video below and don't forget to book a demo for the next steps to your own company's success with GTR:
The Results

Since they joined the GTR family 13 months ago, Kingdom Roofing Systems has been able to gain 124 Advocates, 175 Referrals, and 106 Deals Sold. This data shows they are averaging about 9-10 Referral Deals per month with a 73X Return on Investment (ROI). That has created an additional million dollars in revenue for their business!
Now, consider what these numbers could mean to your business. How would closing 9-10 additional deals each month impact your bottom line? Could you use an additional million dollars in revenue? Click the button below to find out what GTR can do for your business!
Would you like to share this Case Study with a business partner or colleague? PLEASE SHARE and download the Kingdom Roofing Case Study one-page pdf version here.