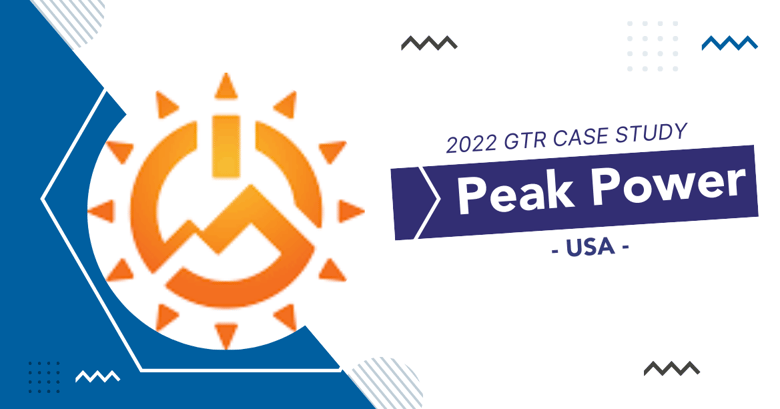 Peak Power USA has been designing and installing customized solar projects for residential and commercial clients since 1999. When they first brought on Kevin Scheidt almost two years ago, as a seasoned Sales professional, he was determined to build a strong, organic, internal sales team around a business that is focused on quality customer experience and satisfaction. After joining GTR, the Peak Power USA branded app helped them to create a strong internal sales team that has resulted in 62 referrals and an additional $408K in sales. This case study highlights Peak Power's success with our platform.

Check out the Case Study Interview highlight video below:
The Story of Peak Power USA
Peak Power is one of the most sought-after solar installers in Kern County, California, and they've become a leading residential, commercial, and off-grid solution provider. They believe "that solar power will be the driving force of the future."
Committed to the future, Peak Power is in business for the long haul and they're committed to their customer's satisfaction from the very beginning of a project to completion and beyond. They are dedicated to best practices and offer a complete package - Sales, Service, Design, Engineering, Installation, and Warranty work. In addition, Peak Power is committed to finding the right financing options for its customers, which is why it partnered with Sungage Financial.

Sungage Financial is a leading residential solar financing provider that enables solar installers to offer their customers the lowest monthly payment in the industry. They unlock access to flexible APRs for terms up to 25 years, the highest loan cap in the industry of $200k, and their team of dedicated in-house customer service and account managers that have a collective 250 years of solar experience.
Peak Power and other solar installers choose Sungage because they get the support and expertise of a team that goes the extra mile to make their lives easier, close more deals, and help build a network of referrals. In this way, Sungage is perfectly aligned with GTR's customer experience strategy and referral platform. Learn more.
The Challenge: The Need for a Strong Internal Sales Team
When Kevin Scheidt joined the Peak Power USA team almost two years ago, he had the critical goal of building a strong internal sales team. Prior to his joining, Peak Power focused mostly on using 1099 Independent Contractors to handle their sales. But Kevin knew the power of a sales team that's built within the organization that it serves. He also understood that "people buy from people they know and people they trust" so the need for a referral platform was a key component.
Peak Power, like most other solar companies, was also in need of quality leads and lead sources. The core of the GTR platform is its ability to create a simple yet powerful referral program that can create high-converting, reliable leads. Kevin knew that if he wanted to close the maximum amount of deals per month then he would need to focus on the company's long-term goals while building a quality customer experience that translated to customer satisfaction and advocacy.
Listen to GTR founder & CEO, Jamey Vumback, discuss keeping your sales reps engaged:
Why Peak Power USA Chose GTR
Also a Sungage Financial partner, GTR is the industry-leading solution for company referral programs, but we also provide the tools needed to build strong internal sales teams. Our platform is designed to create a steady pipeline of high-quality leads that convert at a higher rate. The company-branded mobile app impresses potential customers and provides the sales team with a way to communicate directly with both customers and prospects, allowing sales reps to stay top of mind.
Kevin knew about GTR from his past acquaintance with our founder and CEO, Jamey Vumback. Kevin also knew of a solar company that had used our platform with success in the past. He became intrigued by GTR's ability to help "get and retain business and get and retain customers in the long run" which was a key goal for him as the new General Sales Manager. Peak Power became part of the GTR family about a year and a half ago and has been finding success ever since.
GTR empowers Peak Power USA to provide their customers with a way to communicate with their team, monitor their project status, submit a review, share their experience online, and refer others with the ease of automatic reward payments. Our all-in-one solution provides improved communication and a quality customer experience that the Peak Power sales team can rely on to create long-term growth.
"It's a great platform! It's definitely paid dividends."
- Keith Scheidt, General Sales Manager, Peak Power USA
How Peak Power Uses the GTR Platform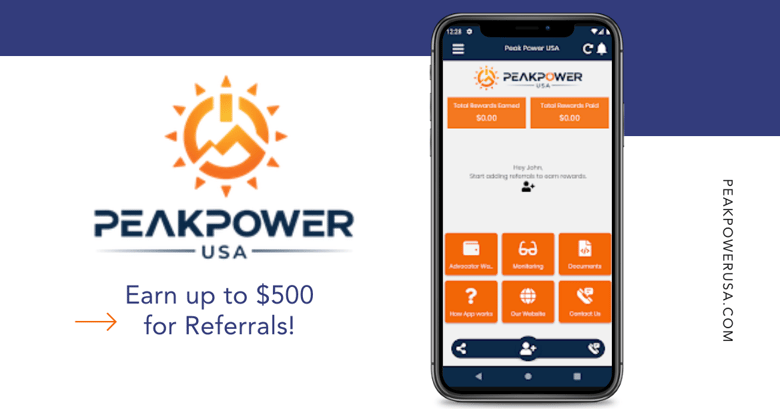 Peak Power's referral program is simple yet powerful, and it's all taken care of in their custom-branded mobile app by GTR. The app gives Peak Power advocates the ability to refer others by easily submitting contacts from their phone, they can track their status, and then get automated notifications for payment of their referral rewards.
The Peak Power USA Referral Program Details
They offer generous referral rewards on a tiered system to incentivize advocates. Advocates who want to supplement their income using the program can get to 3 referrals, jump up to a $500 reward per referral, and then make decent money by simply sending 2-3 quality referrals per month. Kevin said they already have a few advocates already doing this.
Peak Power pays the following referral rewards to its advocates:
* $25 is paid for each contract signed (Verified)
Once a referral makes a purchase... (Sold)

* $250 is paid for the 1st referral customer
* $250 is paid for the 2nd referral customer
* $250 is paid for the 3rd referral customer
* $500 is paid for the 4th referral customer and onward
Peak Power Sales Team Referral Program Strategy
The Peak Power USA sales team has monthly meetings to stay focused on their referral program and their long term strategy. They had one rep in particular who became fully committed to building his sales pipeline with a reliable flow of high converting referrals. In order to accomplish this, his goal has been to add 25 new advocates each quarter. The strategy creates a consistent influx of advocates built over time, along with the referrals that they generate, resulting in a lovely compound effect that every sales team dreams of.
The Branded App Features Peak Power Uses Most
We focus a lot on referrals at GTR, but that part of the app is really only one feature of many. In addition to the referral platform, here are three other app features that Peak Power uses:
The In-App Messaging Tool
Communication is key, especially when you're looking to build trust with a prospect or a new customer. Our in-app messaging tool allows sales teams to stay connected with prospects and customers by communicating directly within the app. This makes responding to customer questions and staying top of mind easier than ever.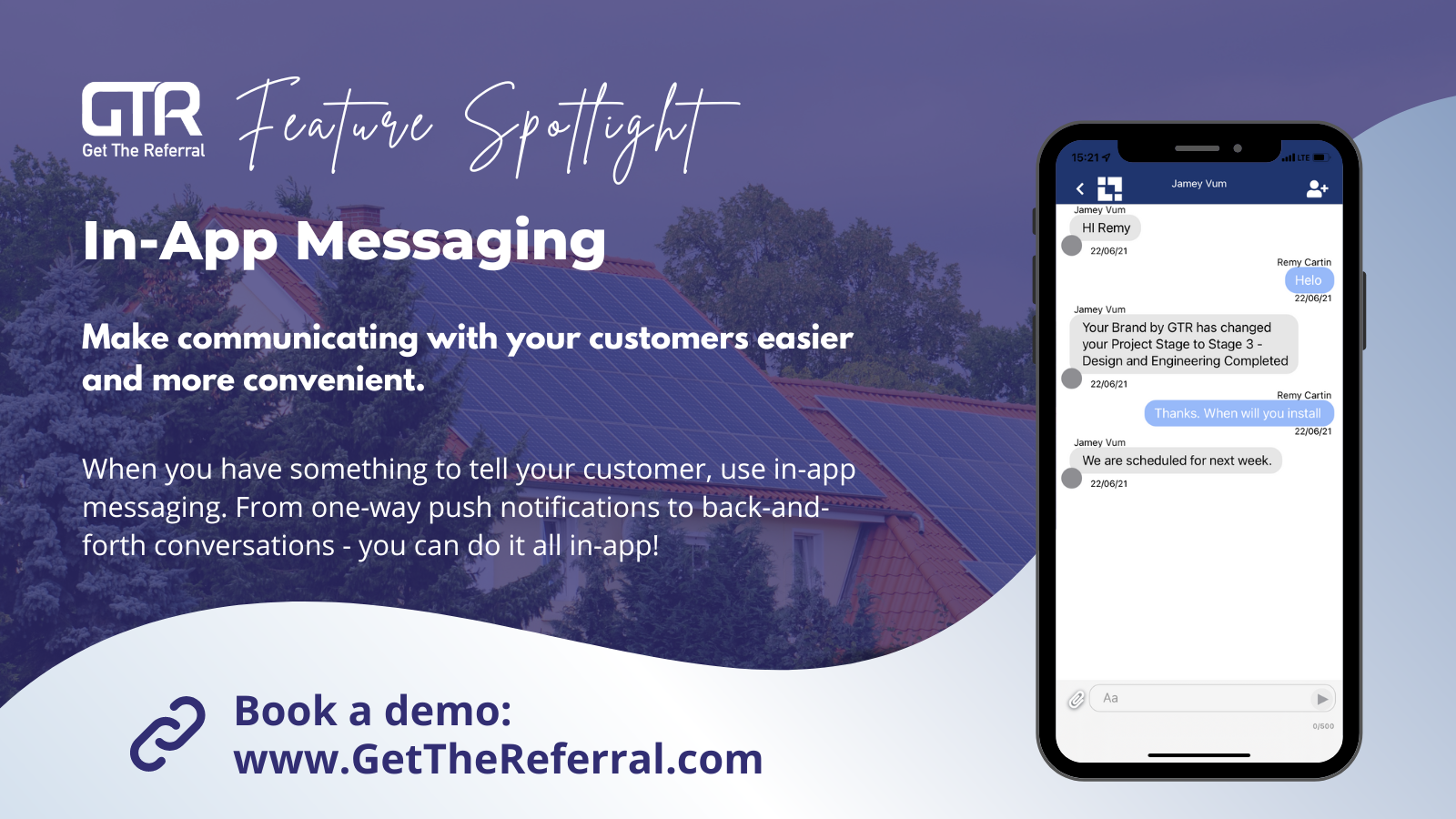 The Advocator Wallet
Peak Power uses the in-app Advocator Wallet to pay their advocates the referral rewards they earn automatically. The advocate receives an automatic push notification when their referral reward payment are available, and then they use the Advocator Wallet to transfer funds to their bank account, a Visa debit card, or a gift card from a store of their choice.
They've also leveraged the power of Advocator Wallet in ways that do not include referral rewards. For example, when needed, this tool has been used by them to pay customers and advocates for any number of reasons. For example, perhaps they promised to reimburse a customer for a utility bill as part of their solar installation contract. That payment can be remitted to them quickly using the Advocator Waller. It's easy and convenient.
The Documents Tool
Part of providing a quality customer experience includes making things as easy and convenient as possible for the customers. Our documents tool was created to make accessing important documents easier and more centralized. Peak Power has just begun using this tool as a way to store important documents for their customers in a safe and convenient place that they can access at anytime with ease.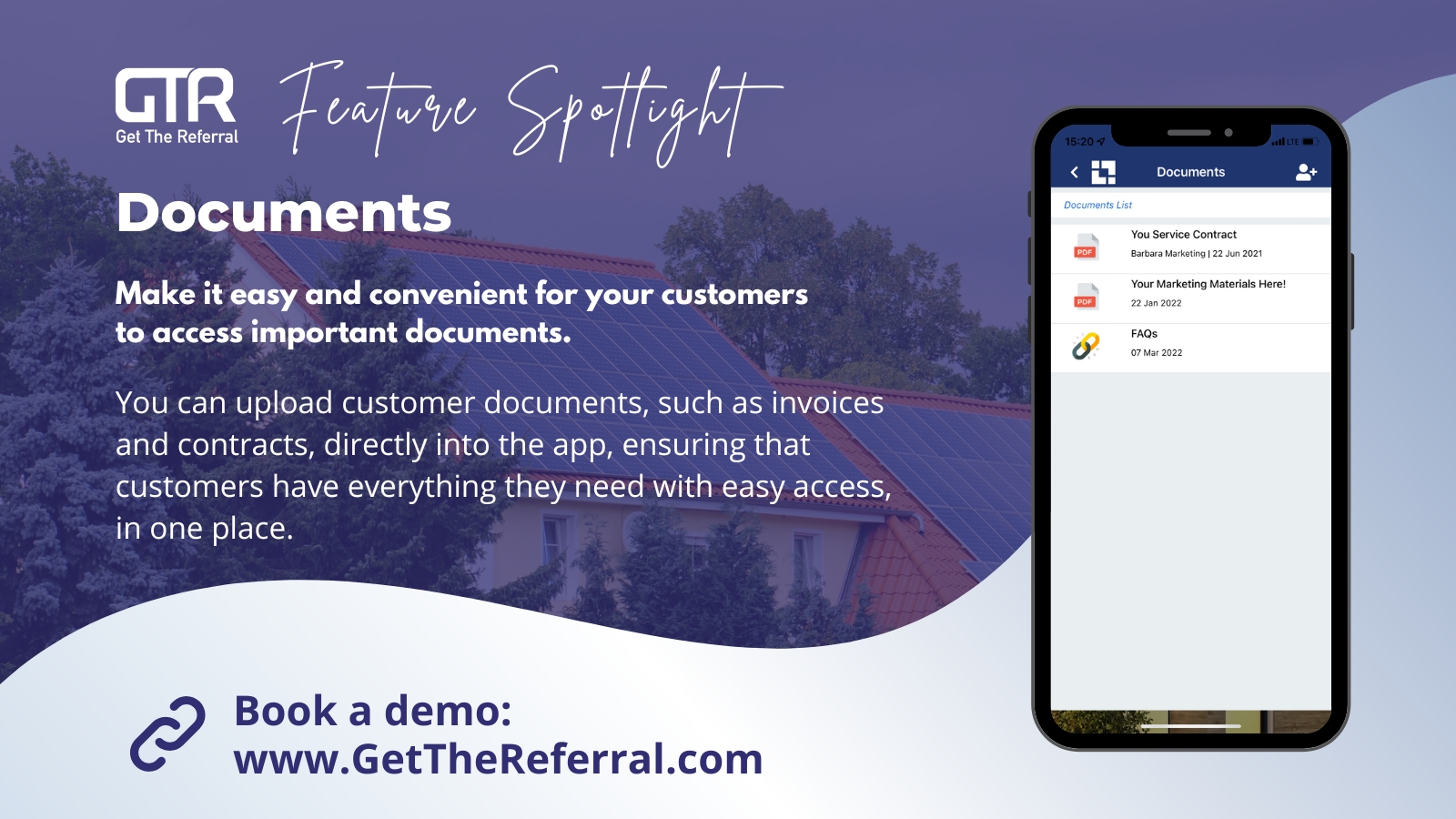 The Results

Since they joined the GTR family about a year and a half ago, Peak Power USA has gained 160 Advocates, 62 Referrals, and 34 Deals Sold. This data shows they are averaging about 1-2 Referral Deals per month with a 37X Return on Investment (ROI). All of this has created an additional $408K in revenue for their business.
From a Cost-Per-Acquisition (CPA) perspective, Kevin reminded us how much GTR has helped them bring down what it costs Peak Power to acquire a new customer. "In the solar industry and other lead sources, anything under $2,000 or $1,500 per customer is a good Cost Per Acquisition," he explained, "I know for a fact that our Cost Per Acquisiton with Get The Referral is way under that." Our Marketing Operations Manager, Barbara Domingues, worked through the data with him and found Peak Power USA's average CPA with GTR is an impressive $600, a fraction of the industry accepted CPA.
Kevin also praised the excellent service he's received from our customer success team as well, something we are exceedingly proud of as well. GTR strives to offer top-notch service and is committed to helping each of our customers achieve success with our platform. Now consider what these numbers could mean to your business. Do you want to build a strong internal sales team? Would closing 1-2+ additional deals per month help your business? Click the button below to find out what GTR can do for your business!
Would you like to share this Case Study with a business partner or colleague? PLEASE SHARE and download the Peak Power USA Case Study one-page pdf version here.