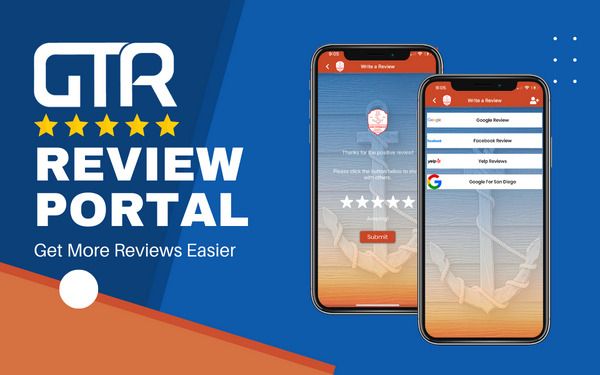 We are excited to announce the official launch of our new Review Portal today! The new and improved GTR Review Portal allows you to take your review marketing to a whole new level. Customers can write a review directly through your branded app to the various review platforms online, making it easy and convenient for customers to leave a review and provide you and your team with more honest feedback. The Review Portal now includes the addition of automatic review triggers, customizable review prompts, and the ability to manage everything from your online dashboard. Here are the details:
Review Marketing
Now, you can send push notifications and emails - manually or automatically - asking your customer for a Review.
Notification of Unsatisfactory Reviews
With this new release, you can let your Company Admins and associated Sales Reps know when an Advocate submits an Unsatisfactory Review. This will allow you and your team to contact the customer and try to resolve the customer's issue accordingly.
Tracking Customer Review Behavior
The new portal allows you to view the Date the Review was Posted, the Advocates name, the star rating, and the Advocates review input. You also have the ability to track which review websites your Advocate visited.
Project Stage Trigger to Ask a Customer Review
You can now configure multiple project stages prompting an email and/or push notification to be sent asking the customer for a review.
Pull Your Company's Google Reviews in Advocator Dashboard
Streamline your review management by pulling in all of the Google Reviews associated with your company into your dashboard. You will then have the ability to respond to reviews or edit a response from within the Dashboard.
If you want more reviews for your company and more referrals, the GTR app is your best solution. If you're new to GTR, book a demo below, or, if you're an existing customer, contact your Customer Success Manager today.