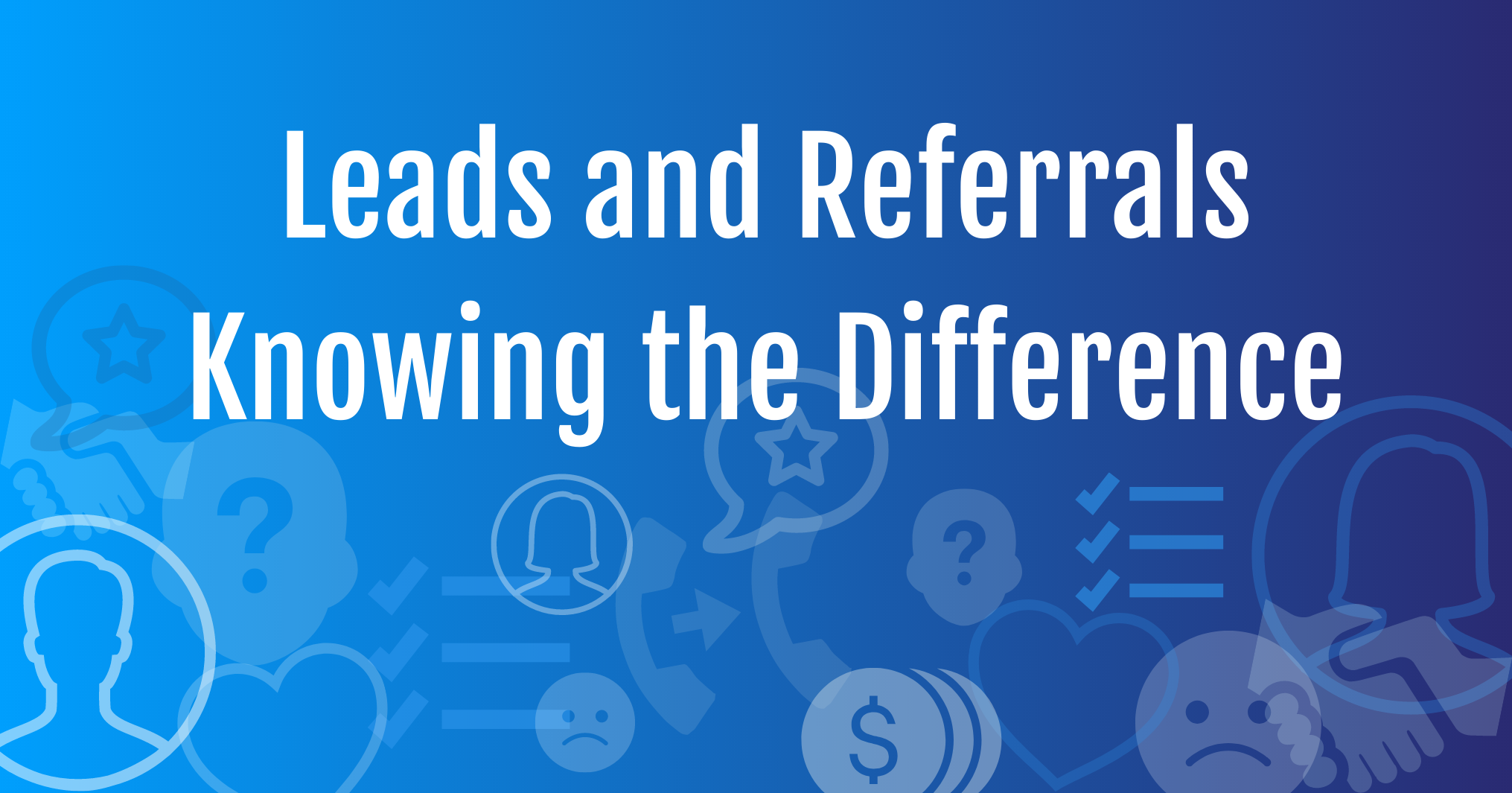 What Is The Difference Between Leads And Referrals?
In our sales demonstration and training, we have our prospects and customers constantly asking us if we sell leads or what is the difference between leads and referrals. The answer is: there is a huge difference between both and deciding about which source your business will work with can directly impact the company's results.
When comparing lead generation and referral marketing strategy, the second is by far the most preferred choice amongst companies. And do you know why? Referral Marketing makes more ROI (Return on Investment) by generating a higher closing ratio at a lower cost per acquisition (18-22% against 2-3% in case of lead generation). Let's go into the details.

What Is a Lead?
Leads are contacts that, generally, are not expecting to receive a call. They don't necessarily need the product or service you are about to offer. For example, if someone gives to an insurance agent a list of people who just bought new homes, that might be considered a good set of leads, but still, because the prospects are usually not expecting a call from the agent and might not even know his company, it's basically not much better than a cold-call.
A few other characteristics of leads:
- Leads have no personal endorsement.
- The time and work you need to put into leads are huge.
- Close ratio coming from leads are low because of all those factors above.
A Lead Is Unqualified.
As mentioned before, leads have not the personal introduction made by an Advocate for the mutual benefit of both parties. The person or company who is given a lead has no assurance that things will follow through.
Companies can gather a lot of leads and build a huge list. But then there is a lot of work involved to filter out those who don't fit your ideal client profile, and all the time spent by the sales reps with unsuccessful calls and gatekeepers.
What Is a Referral?
Referrals, on the other hand, are when someone gives you the name of a friend or family member who needs your product or service. The most important difference is that referrals come with the "stamp of approval". For that reason they are targeted and generally come to you, while leads are something you chase after.
In fact, a Nielsen study shows that 83% of consumers say they either completely or somewhat trust recommendations from family, colleagues, and friends about products and services, making these recommendations the highest-ranked source for trustworthiness. (Source: Nielsen)
A few other characteristics of referrals:
- The time and work you need to put into referrals are significantly smaller.
- Referrals come with much less effort, once you train your team to ask for referrals, they can come organically.
- Close ratio coming from referrals is higher than leads because of all those factors above.
- Customers referred by other customers have a 37% higher retention rate (Source: Deloitte).
A Referral Is Pre-Qualified.
Consent is a prime aspect in successful referrals. So, when you call a referral, most of the time they will already know who you are and what you do (through the person who referred them) and in the best cases, may expect your call.

Advantages of Referrals.
Most of the people who are referred end up choosing the product or company because their Advocates have done so. They already have an inherent trust factor playing; hence there is no need to spend additional money on advertising since referrals come in organically, already at the bottom of the buying funnel.
Also, referrals are usually more excited about the acquisition, based on the positive experience of their Advocates.
2. Increased Sales.
Before any sale, companies spend money in generating leads by cold calling, which takes a lot of the sales team time and effort. With referral marketing, generating leads happens automatically and with a much lower effort: this has a direct effect on sales since the team has more time to prospect more.
Obtaining Referrals.
A common mistake though is to think of a referral as a guaranteed business. This is not always the case. Once your business gets a referral, it's up to you to do the rest. But the fact is that a referral is an open door to put your feet forward.
If you have a structured referral program, things get easier. With a referral software in place, you make sure all referrals are submitted on the same platform, your sales team can quickly contact those prospects and communicate with them regularly.
You can also keep transparency with your Advocates by notifying the status of their referrals and rewarding them for their efforts.
And Don't Forget to Just Ask For Referrals!
Implement the principle of asking results in receiving an answer, doors opening, and relationships created. Therefore, ask your clients, trusted friends and colleagues, business partners if they know anybody or any business who needs what you provide. You will be surprised with the results!
Bottom Line About Leads And Referrals...
What you really want are recommendations. Recommendations come with approval and trust. As I described above, a referral is a bona fide (good and faithful) piece of information that the person making the referral has decided is appropriate for you. It will not be a waste of your time to connect. Whether or not the referral has an immediate need for your services, you can establish a basis for continued connection, which keeps you top-of-mind when the prospect is ready to pull the trigger.
The person referring someone to you is a proof of good faith in your business. Don't take it for granted: work every step of the sales process with the new prospect and make sure to keep your Advocates up to date with the status of this referral: it shows you really appreciate their trust and that you will take good care of their recommendation! And lastly, don't forget to reward them for the effort.
Take a look at the Seal Solar testimonial, telling how GTR's referral platform help them build their brand recognition in the solar market.