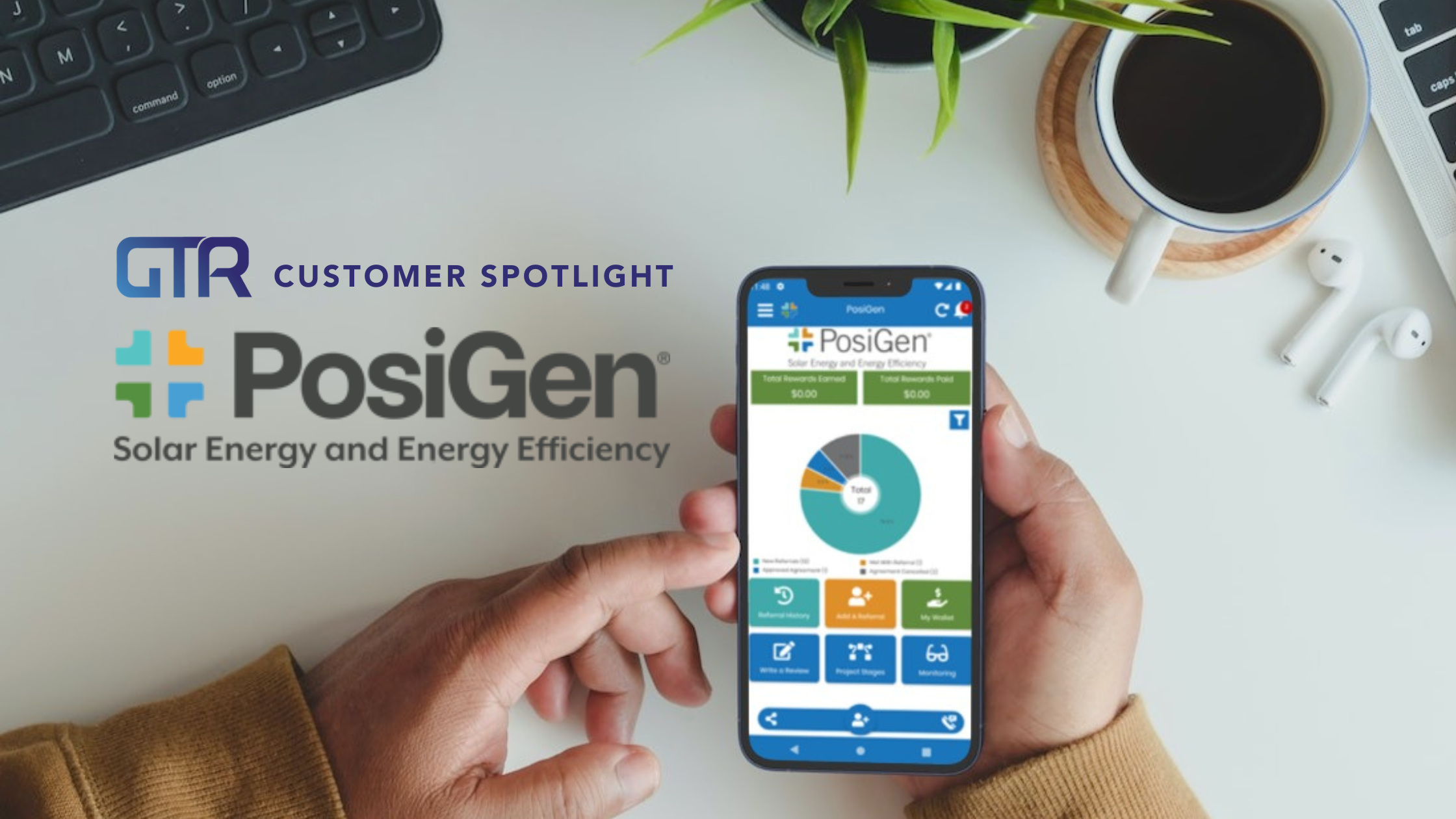 Looking for an inspiring story about a customer who is leading the way in the renewable energy space? Look no further than PosiGen! This innovative company has been making waves with its mission to make energy efficiency accessible and affordable to underserved communities. At PosiGen.com, you'll find a range of energy solutions that are designed to help homeowners reduce their energy costs and carbon footprint.
With a commitment to delivering high-quality service and innovative products, PosiGen has become a trusted name in the solar industry. In this blog post, we'll take a closer look at what makes them such an exciting and inspiring customer to work with and explore the ways in which they're finding success with our platform. We asked their Marketing Analyst, Christopher Cloud, a few questions about their experience with us so far. Here's what he had to say.
GTR: Please tell us a little bit about PosiGen and what brought you to Get The Referral?
CHRIS CLOUD: PosiGen is working to implement solar power for all. We want solar to be affordable and easy to access, especially for underserved communities. By making solar more accessible through our solar leasing program, we are making it possible for families in low to moderate-income communities to invest in their homes, reduce energy costs, and take steps toward a brighter future. I can't speak much regarding what brought us to GTR originally, because although I have worked for PosiGen for nearly 4 years, I was in a different capacity originally and had nothing to do with the decision. I was involved in the decision to "upgrade" our account with GTR recently and frankly, that boiled down to what we could and could not do without having the elevated platform, as well as the appeal of an integration refresh with our CRM.
GTR: Can you describe your referral program and process?
CHRIS CLOUD: The PosiGen referral program is about strengthening the communities we serve. We encourage our customers and community members to refer homeowners that can benefit from solar and energy efficiency upgrades to explore PosiGen. If the referred homeowner makes the decision to install solar with us, we pay a $200 referral fee to the advocate.
GTR: What is your favorite GTR product feature and why?
CHRIS CLOUD: From a Marketing standpoint, push notifications (PNs) are probably my favorite feature. Especially since the relatively new introduction of scheduled push notifications. This gives the ability to run and plan multiple campaigns at once and also capitalize on the best time(s) for consumers to receive those notifications
GTR: Do you have any significant numbers to share (i.e. before & after GTR; average # of referrals monthly, revenue earned from referrals, etc.)?
CHRIS CLOUD: I can say that we have increased our Advocates (registered) by nearly 30% in about 8 months. Since advocates are the folks submitting referrals, I find it great to watch that number of referrals coming in climb. We find that our active advocates submit up to 3 referrals per month with some promotional and seasonal variance(s).
GTR: If you were asked to describe GTR in one sentence, what would you say?
CHRIS CLOUD: I would say that GTR is a customer management tool focused on referral acquisition with some extras.
GTR: Would you recommend GTR to a friend or colleague? Why or why not?
CHRIS CLOUD: I would and one of the big reasons is because of the platform on the backend. Although I do not claim to be a guru and Chad, our customer success manager, could certainly elaborate on that, the gist of the basic functions for the day-to-day oversight is pretty user-friendly. I also appreciate the integrated knowledgebase and have used that several times.

We hope you found this post insightful and we are grateful for them taking the time to answer our questions. Please feel free to learn more about them at www.Posigen.com.