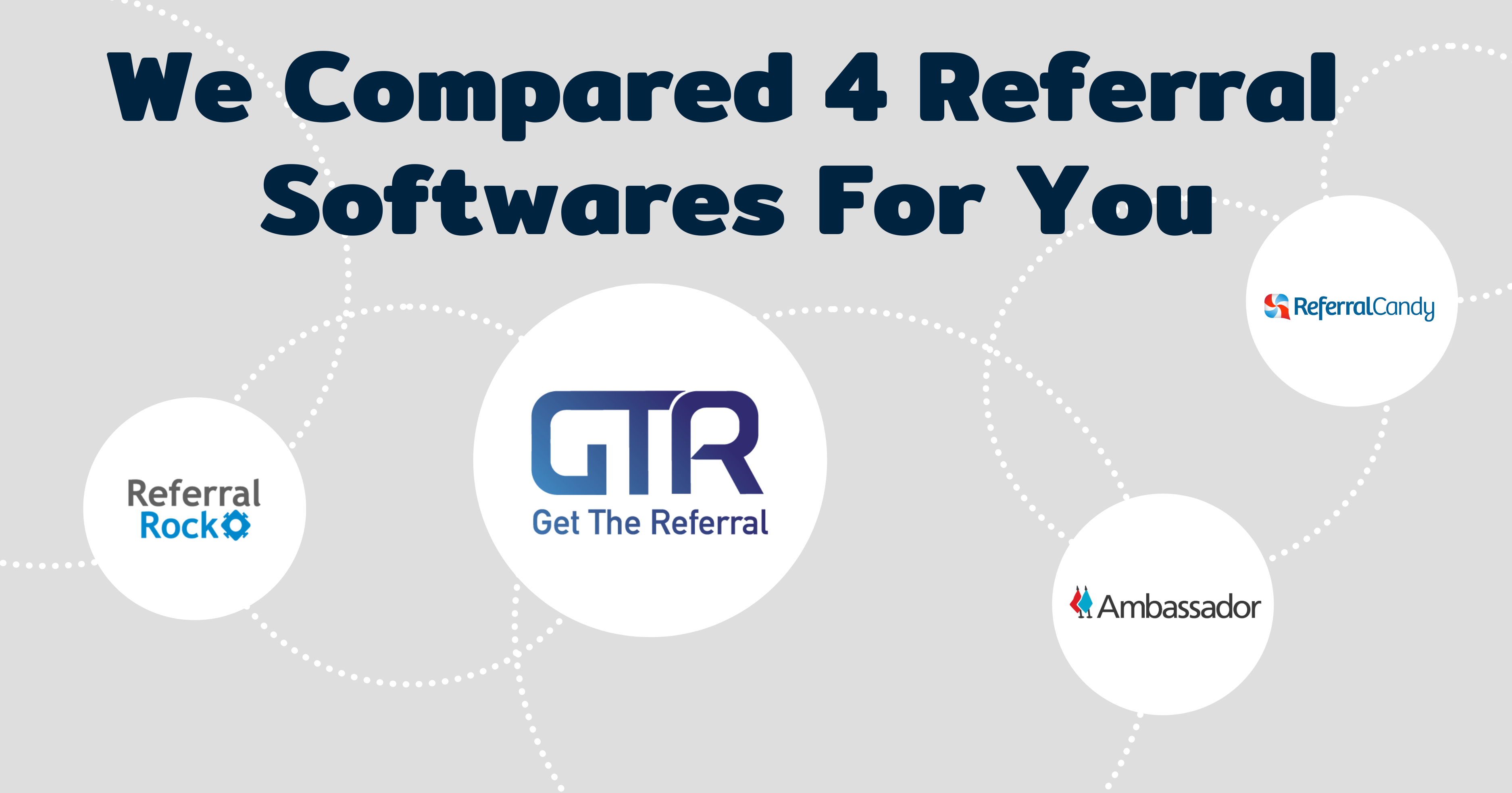 When choosing a referral software for your company, it's essential to collect data and compare the available options. To help you with your decision, we compared GetTheReferral features with its competitors on.
Integration

Most companies offer to integrate with your CRM. While ReferralCandy focuses on eCommerce referrals, Ambassador and GTR can integrate the referral program webpage in the company website and has open API for full integrations.
Customization


It is very common for a referral software company to offer a Landing Page (Web page) for your website, but none, other then GTR, offers a customized branded referral app, where the customer can take advantage of the Branded App Marketing (BAM is a marketing strategy that uses a branded mobile application to engage with a network of consumers) to connect and engage with customers and prospects. Read more about "Why Branded App Marketing is so important?"
Communication

Because GTR offers a mobile app, they are able to add additional communication channels to your marketing, whereas, GetAmbassador and Referral Candy only offer the common social share features.
In addition to social share features, GTR is the only provider to offer in-app messaging, push notifications, and review sites all rendered in the app. With additional communication features, you can focus customer engagement and project management all while staying top of mind. Read more about "10 Statistics About Referrals and Mobile You Should Know."
Rewards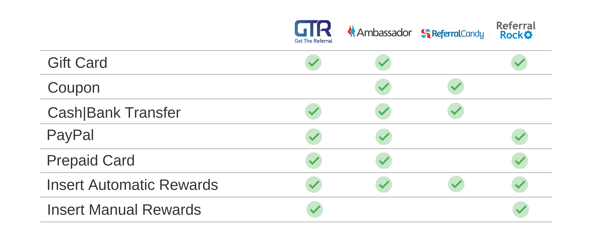 GTR and GetAmbassador are the two companies with the most extensive variety of rewards. GTR stands out in this because their app allows for referral rewards to be paid directly through the app allowing users to be rewarded quicker and from anywhere!
Reports & Analytics

In terms of analytics, all companies offer analytic tools or dashboard to help customers track and manage referrals and payments.
Customer Experience

GTR has the complete Customer Experience, with a dedicated Account Manager, Live on boarding and sales training. The Account Manager gives all the necessary support to help the customers to promote and launch their referral programs. Besides, GTR provides 30-60-90 days of strategic meetings, to assist customers with questions and guidance to achieve the results out of their program.
Pricing

Most companies offer plan options based on the size of the company and/or number of members. While ReferralCandy is the only one priced with a monthly commission fee, GetTheReferral is the most customizable one, with price based exclusively on number of users, fitting all company sizes and stages.
At GTR, we can help you set up your referral program with an easy and effective referral software. We combine an integrated dashboard that manages your leads and communications, with an engaging, branded mobile app that makes it easier for your customers to actively refer you, and be rewarded quickly for their effort. Let us help you increase your sales with referrals! Subscribe to our blog and schedule a quick demo today and we will show you!
PS. The comparison was made through website search of all companies.