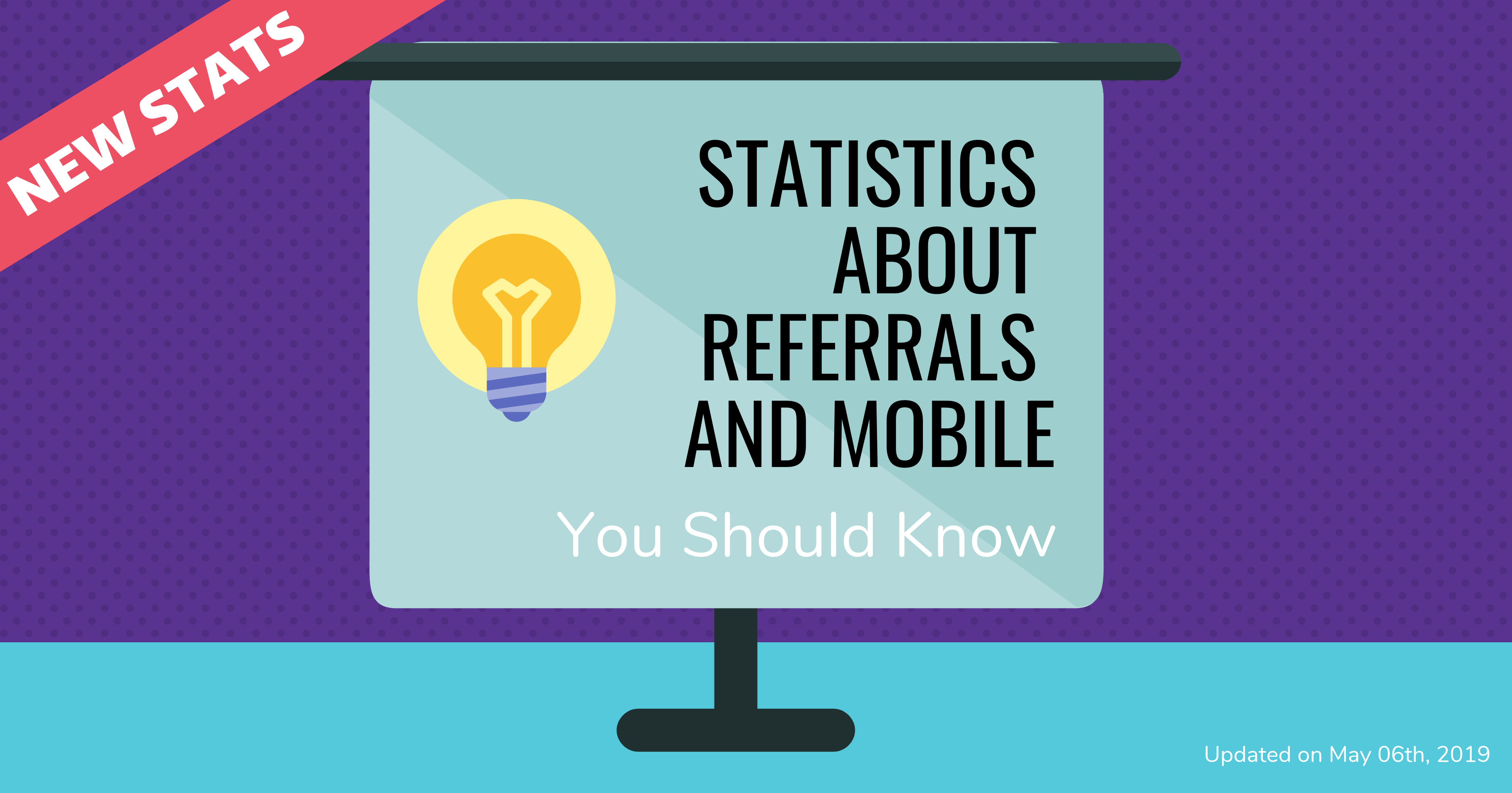 Businesses are looking for other marketing strategies: television advertising is expensive and crowded, while radio advertising is almost obsolete. Growing the business off referrals is the best marketing strategy for today and tomorrow. That's why we selected the best statistics you should know about referrals and mobile habits.
Download the FREE eBook: The Guide to a Better Referral Program for Your Company
#1. A word-of-mouth recommendation is the primary factor behind 20%-50% of all purchasing decisions (Source: McKinsey)
#2. 83% of consumers trust referrals from people they know (Source: Nielsen)
#3. 71% of people are more likely to purchase when referred by social media (Source: Hubspot)
Word-of-mouth marketing is a strategy that involves asking for and collecting referrals from current or past customers. On the most basic level, it is a satisfied customer recommending your company to friends and family. Word-of-mouth referrals can be a powerful source of high-quality leads. The vast majority of people trust the recommendation of their circle of friends and family more than any other source. Since word-of-mouth is such a powerful and trusted form of marketing, it is essential you include it as part of your overall marketing strategy.
Read more about: "Why Reviews and Social Shares Help your Referral Program?"
#4. People are 4 times more likely to buy when referred by a friend (Source: Nielsen)
#5. Millennials ranked word-of-mouth as the #1 influencer in their purchasing decisions about clothes, packaged goods, big-ticket items, and financial products. Baby Boomers also ranked word-of-mouth as being most influential in their purchasing decisions about big-ticket items and financial products (Source: Radius Global Marketing Research)
Customers referred to your business by someone happy with your services are more likely to close a sale than random, non-referred or cold-called leads. The referral builds a level of confidence in your business since consumers are more likely to buy from a company they have reason to trust, like a friend's recommendation.
#6. 83% of consumers are willing to refer after a positive experience—yet only 29% actually do (Source: Texas Tech University)
Most people are tired of the television and radio ads telling them what to buy. They are relying more on friend's opinion. With a good referral program and a good product, friends will be more likely to spread their opinion of your business to their friends, for free. The only thing you need to do is ask!
Read more about: "How Can I Ask for Referrals?"
#7. Customers referred by other customers have a 37% higher retention rate (Source: Deloitte)
Referral marketing will cut your sales cycle significantly. For every customer sent to you by referrals, your sales team will save time making a cold call to those individuals. When you prioritize referral marketing, you may reduce the efforts of direct sales calls that often reach disinterested people.
#8. B2B companies with referrals have a 71% higher conversion rate, and they report a 69% faster close time on sales (Source: Heinz Marketing)
#9. Word-of-mouth has been shown to improve marketing effectiveness by up to 54% (Source: MarketShare)
On the B2B market, referrals can be even more effective. The business networking can be more active than the personal one and, especially for big investments in the company, referrals can be the standing point for decision makers.
#10. 87% of front lines sales reps, 82% of sales leaders, and 78% of marketers surveyed agree that referrals are the best leads your business can get (Source: Heinz Marketing)
Referrals convert better, close faster and have a longer customer lifetime. To get the best results possible from your referral program, it's important to have your sales team engaged with your referral program and a formalized platform to track and reward your referrals.
Read more about: "How to Engage Sales Reps With Your Referral Program?"
Download the FREE eBook: Building a Successful Mobile App for Your Referral Program
#11. 80% of Americans own a smartphone (Source: comScore)
#12. Users spend on average 60% of their digital time on smartphones (Source: comScore)
#13. Ages 35-55 spend on average 65 hours on mobile apps a month (Source: AppAnnie)
It is not enough to optimize your company website for mobile usage and assume you have done enough to encourage customer referrals. The numbers show that people are most of their time on a mobile device. This highlights the importance of having an app for your customer referral program. People prefer to use apps while on their smartphones, so providing an app for your customer referral program will increase the likelihood of customer participation.
#14. Social media drove 31% of overall traffic to sites (Source: Shareaholic)
Facebook now has Facebook Ads, which helps businesses reach more people through the platform. Twitter also has promoted tweets for businesses to use. Though less expensive than traditional advertising, the costs of promoting your business through Facebook or Twitter can exceed your marketing budget.
Communicate with your customers, both during interactions with them and afterward. Many businesses find that a newsletter or email communication can be a helpful "touch" point with previous customers. If your business lends itself to social media communications and interactions, consider engaging with customers online. Social Shares and Reviews are also a great way yo promote your business with low or even none investment.
Read more about: "Why Reviews and Social Shares Help Your Referral Program? "
#15. 81% of people open emails on their mobile or webmail (Source: Email Monday)
To maximize customer participation in your referral program, you need to make it as easy as possible. The modern consumer does not have the time or patience to go through a complicated process to provide you with referrals. If the process is complicated, they may even change their minds about providing referrals. Make the process as easy as possible with an app that your customers can use directly from their phones.
To Conclude
All those numbers support the fact that customer referrals are a strong lead source for businesses. The stats regarding mobile device and app usage highlight that consumers are using their devices and apps more frequently. When you look at these two facts together, they support the idea you need a referral app for your customer referral program.
Don't lose more time with worthless leads and start to invest in building a referral program to your company. If you want to learn more about how a referral software can increase your sales, schedule a demo today and we will show you!