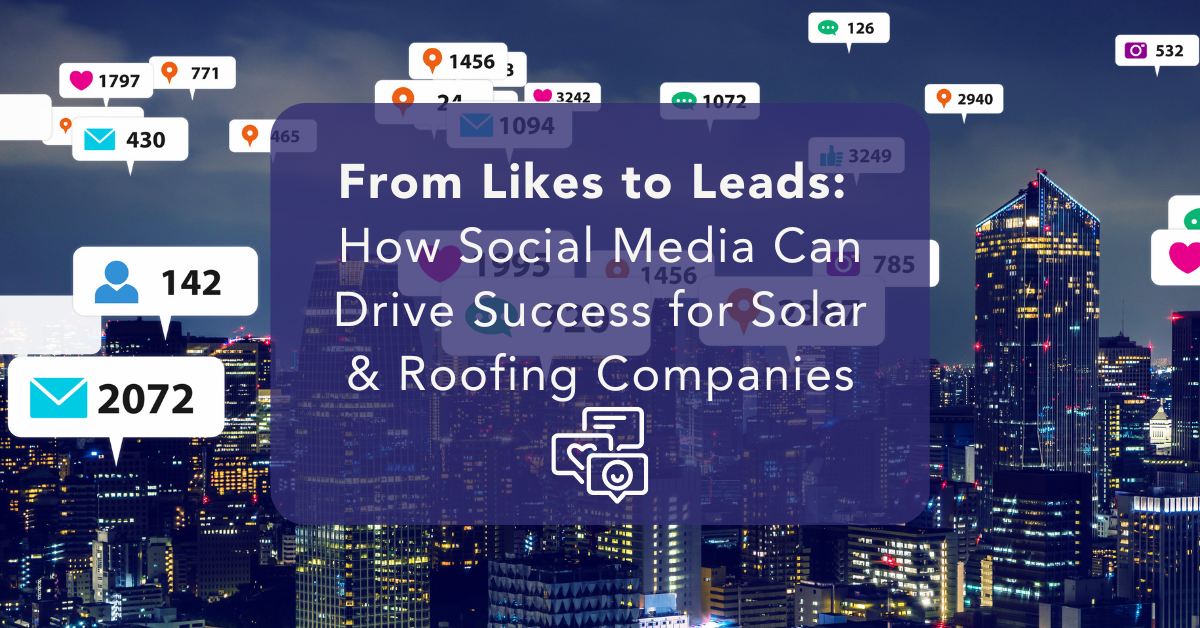 In 2023, the power of social media continues to shape the way businesses engage with their audience and drive growth. For us, a leading SaaS company streamlining home improvement referral programs, social media has proven to be a game-changer.
In this article, we will focus on how solar and roofing companies can harness the potential of social media to boost their success. At the end of this blog, we will introduce a plug-and-play social media solution designed specifically designed for our roofing and solar GTR Clients.

1. How can social media platforms benefit solar and roofing companies?
Social media platforms offer a wide array of benefits for solar and roofing businesses. First and foremost, these platforms provide an excellent opportunity for direct communication with customers. By engaging in real-time conversations, companies can address inquiries, showcase their expertise, and build a loyal customer base.

Social media is also a cost-effective way to reach a broader audience. With the right content and targeting, solar and roofing companies can increase their brand visibility and attract potential customers who may not have been aware of their services before.

2. Which social media platforms are most effective for solar and roofing businesses?

For solar and roofing companies, focusing on the right social media platforms is crucial. While each platform has its unique advantages, two major players stand out: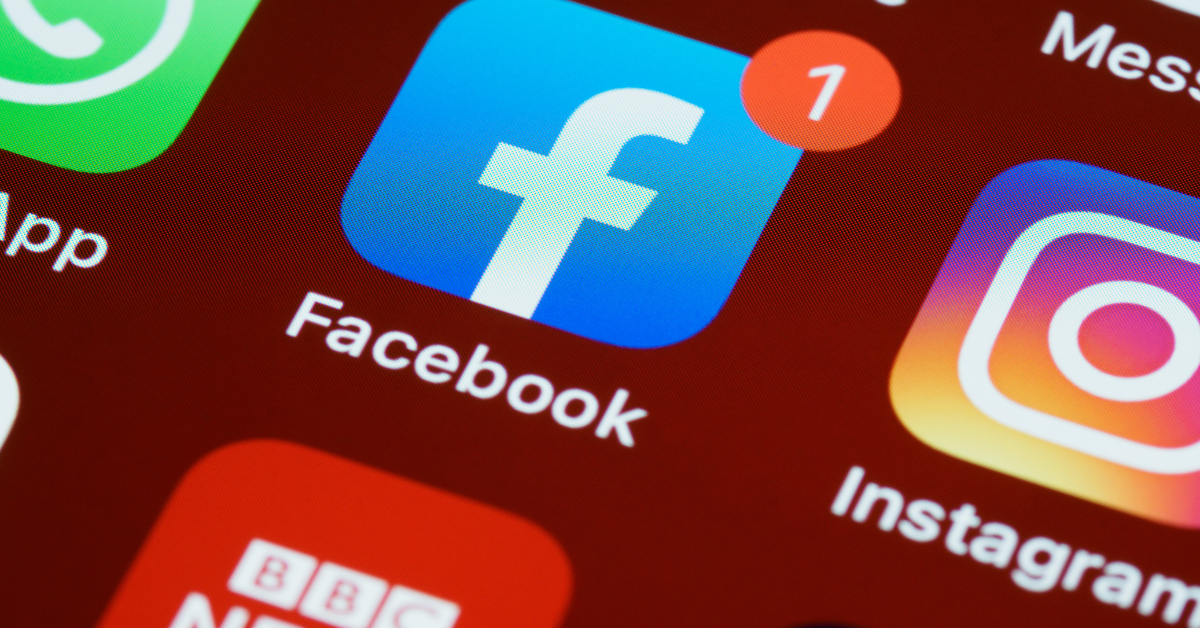 - Facebook: With its massive user base, Facebook is an excellent platform for targeted advertising and building a community around the brand. Companies can share project updates, testimonials, and educational content to engage their audience effectively.

- Instagram: Visual content is key for solar and roofing businesses, and Instagram provides the perfect platform for sharing stunning project photos. By using relevant hashtags and geotagging, companies can attract local leads and showcase their workmanship.

3. What strategies should be used to leverage social media effectively?
To leverage social media effectively, solar and roofing companies should consider the following strategies:

- Consistent Branding: Maintain a consistent brand image across all social media channels, using the same logo, colors, and company information. This will help establish brand recognition and trust among followers.

- Educational Content: Share informative content that addresses common questions and concerns related to solar and roofing projects. Providing value to the audience will position the company as an industry expert.

- Customer Testimonials: Encourage satisfied customers to share their experiences on social media. Positive reviews and testimonials build credibility and encourage potential customers to choose the company.
- Promotional Content: Promote your company, your referral program, and your mobile app across your social media channels, but make sure that's not all you do. Remember, social media is about being social, so we recommend you keep your promotional post to no more than 30% of your posts. So if you decide to post daily for a 30-day month, ten (10) of those would be promotional posts.

4. How can social media help increase brand visibility?
Social media acts as a virtual stage where solar and roofing companies can showcase their completed projects, before-and-after transformations, and satisfied customers. When users engage with such content, it reaches a broader network of potential customers through shares and likes, increasing brand visibility and recognition.
Learn more about Social Media from our partners at Hook Agency.
5. Do you have a success story of a company that has effectively utilized social media?

One successful GTR Client, Zuna Solar, utilized a well-executed strategy that leverages the power of social media while increasing referral opportunities. They provide their customers with a fun and effective way to share their completed projects. This allows Zuna Solar to showcase its installations and highlight the environmental benefits of going solar.
The Power of Social Media

Social media has emerged as a powerful tool for solar and roofing businesses to connect with their audience, expand their reach, and drive business growth. By harnessing the potential of platforms like Facebook and Instagram, companies can increase brand visibility, build a loyal customer base, and generate valuable leads. Check out these stats: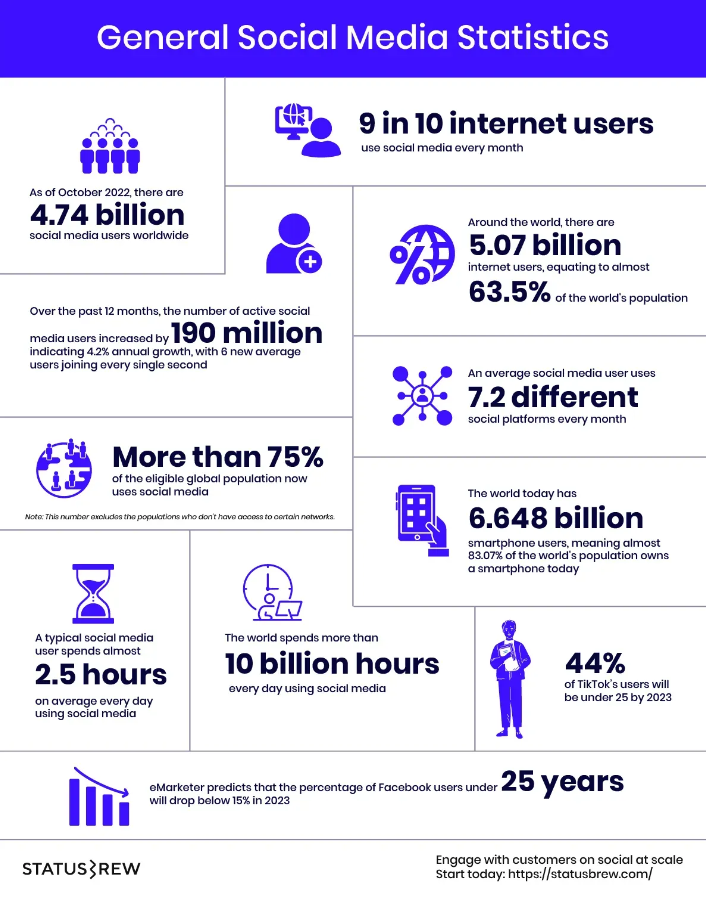 [infographic Source: StatusBrew.com]

Introducing the GTR Social Stack
For GTR Clients only: If you're seeking a quick and efficient way to boost your social media presence and referral programs, we created the GTR Social Stack. This comprehensive solution includes ten (10) fully branded social media graphics, strategically designed to promote your company's referral program, mobile app, and overall business. Alongside the graphics, you'll receive The Social Stack Guide, offering easy-to-follow steps and a ChatGPT-powered prompt for creating engaging social media copy in seconds.
Take advantage of the special launch pricing of $600 (8/1/23 - 8/30/23) to unlock the full potential of social media marketing and drive your solar or roofing business to new heights with the GTR Social Stack. Don't miss this opportunity to transform likes into valuable leads and referrals for your company!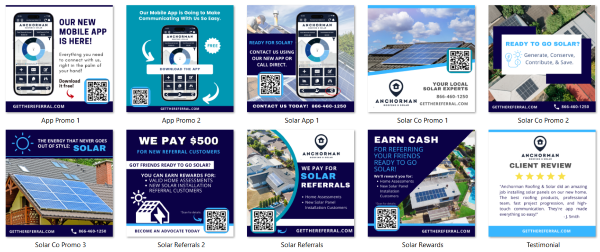 ADDITIONAL RESOURCES:
FREE SOCIAL MEDIA FOR CONTRACTORS COURSE - by HookAgency
SOLAR SOCIAL MEDIA RESOURCES:
Social Media for Renewable Energy Companies: 5+ Ideas to Try - by WebFX.com
Here's Why Solar Companies Need a Social Media Marketing Strategy - by SolarFeeds.com
Beginner's guide to solar marketing: 4 strategies to jumpstart your marketing - by AuroraSolar.com

ROOFING SOCIAL MEDIA RESOURCES:
8 Ways to Boost Social Media for Roofing Companies - by WebFx.com
Marketing for Roofers: Social Media Marketing Best Practices - by Equipter.com
Social Media Tips for Roofers: A Comprehensive Guide - by ComradeWeb.com
GTR SOCIAL STACK LAUNCH PRICE TERMS:
Discounted launch pricing and exclusive CSM product discounts expire at 12:00 AM PT on 8/31/23. All GTR Social Stack submission requests must be received by 11:59 PM PT on the 8/30/23 deadline to qualify for all special discounts. Email replies from GTR Clients time stamped by the 8/30 deadline that is in direct response to an offer made by their CSMs automatically qualify.