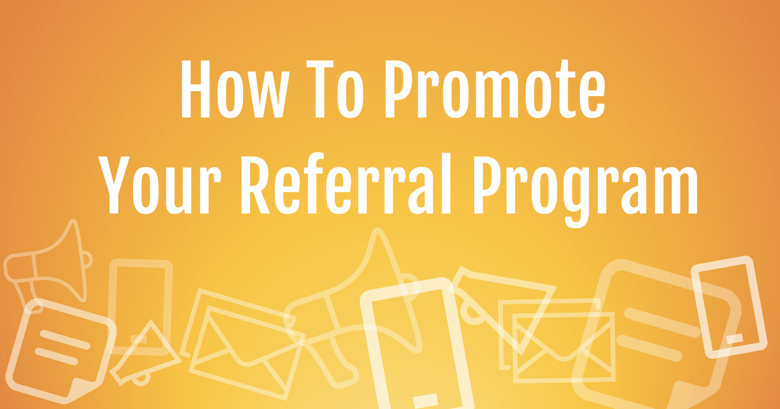 Why Is Promoting A Referral Program Important?
First, let's start by defining referral marketing: this marketing method is based on the promotion of products or services to new customers through referrals, also called word of mouth. And it is proven to be an effective marketing tool for any business because:
- 9 in 10 buying decisions are made with peer recommendations (Harvard).
- Business-to-business companies with referrals have a 70% higher conversion rate, and they report a 69% faster close time on sales (Influitive).
- "A direct referral lead is over 36X more valuable than a lead generated by a cold call, 10X more valuable than a trade show lead, and at least 4X more valuable than a web lead." (Ken Krogue, President of InsideSales) .
Referrals do scale when your company has metrics and accountability: meaning that they are part of the sales organization's priority and there's a system in place to measure results. But a referral program isn't just one more initiative to introduce to your organization. Referral selling is a complete shift that requires skills building so that reps know how to ask for referrals.

How to attract referrals.
While all salespeople love to receive referrals, most are uncomfortable asking for them, and many sales leaders don't believe referrals can scale. One reason is their sales teams don't know how to ask for referrals, but following the tips below will help your company and team get more referrals organically, not having to by pushy or inconvenient.
Make your customers feel cared for.
Did you just read an article that a customer would find entertaining? Did you just publish a case study useful to your customers? Did you just release a new product or service that could complement your solutions for customers' needs?
If so, send them a message to tell the good news. It's a simple and effective way to show them that you've kept them in mind - even after a project is completed.
Find ways to deliver results beyond the scope of your projects.
We can't stress enough the important to provide an outstanding customer service Simply because without great customer service, there really wouldn't be a desire to refer said product/service/business with family, friends, or business associates at all. When you over deliver your product/ service and delight them all over their journey, you simply boost the chances of having this person sharing their positive experience and referring your brand to friends and family.
When to Promote A Referral Program.
Every moment is a moment to refer… Almost!
You can certainly ask for customer referrals immediately after closing the deal — but we wouldn't recommend it. Wait until you've provided your customers with unparalleled service. They'll be more likely to share names of trusted colleagues with you once they know you haven't just been trying to get them to sign. The value you've proven will make them want to tell their network about you.
One effective strategy is to combine in a single company tool a handful of features, together with the referral program: for example, with your own custom branded app, your company can upload documents related to the customer's project (i.e. contract, warranty, guide, etc), send updates about their project, message them with offers and also allow them to refer through the app. That way the whole customer journey and experience is in one place, making them come back to your app frequently and reminding them refer you brand.
For short-term projects.
Put simply, in case you have a short-term project or single product, ask for a referral after you've gotten final sign off from the client. Don't wait too long— you don't want them to forget about you and the awesome value you've provided— but wait just long enough for them to see actual, noticeable results.
For long-term projects.
There's a misconception that you have to wait until a project is over for you to start asking for referrals. That couldn't be further from the truth. If you and your client are excited about the start of a new project, then share that joy with others.
If they sent you some feedback halfway through, thank them for the input and remind them that if there is anyone else like them that could use your services to send them your way.
And, once more, ask them once you know you've provided unparalleled value. This will mostly go by gut feeling, but you can be smart about it. Ask for stats as you go and check in with your client for constant feedback. After all, you don't want to ask for a referral before you've proved your worth. Never ask for a referral as part of your invoice, because you want to show your appreciation through excellent service and outstanding product, and not relating it to the price they are paying.
Tips to Promote A Referral Program.
When you take the time to build a referral process, you can automate all or part of it, so you get all the benefits of referrals without needing to put the manual effort in after each sale.
1. Before You Try Anything, Make Sure Your Customer Service Is Outstanding.
Constantly going above and beyond is the best way to attract referrals… but that doesn't mean you can just do a great job and expect referrals to roll in. While some existing clients will refer you just because they're happy with the work you've done, more often than not you will actually have to ask for a referral, in some cases even asking for referrals in an email or through a message.
2. Choose Your Referral Request Method.
When requesting a referral, you want to keep the focus on your customer and their happiness. You don't want to appear like a lead-hungry sales rep who's done with them and ready to move on to their friends — you want to seem like a helpful resource who's invested in your relationship.
For that to occur, invest time to train your sales rep and make the referral program really part of their day-to-day. Here at GTR we've seen that our most successful customers are the ones who have their sales team aware and engaged with their referral program.
3. Offer An Incentive.
You might be offering great customer service, but sometimes it's still not enough to get those referrals. It's time to incentivize your customers. Offer cash rewards, gift cards, a discount on next month's invoice, or a donation to the charity of their choice.
Send this incentive offer to a portion of your happiest customers and tell them the first 10 to respond with a referral will receive an additional reward, or offer the special referral rewards on holidays. You might be surprised at how fast those referrals suddenly come to your customers' minds.
Read More: How to Build Your Customer Referral Incentive Program.
4. Work with Partners? Give and Take.
Referrals are not limited to past or current clients, but partners too. For example, you could have partnered with another company in the past who can send you work when a customer asks for someone in your niche. If you've ever had too much work, you could refer a potential customer to a fellow company. If you own a brick-and-mortar store and customers always compliment the design, refer them to the individual responsible.
After building these symbiotic relationships, it's not uncommon for send each other referrals all the time.
Do you know anyone that could use the products or services that your customer provides? If so, refer them too… Do what you preach!
5. Can't Get a Referral? Ask for a Testimonial.
The benefits of getting referrals and using testimonials include a shorter sales cycle, higher conversion rates, and a higher return-on-investment (ROI). Testimonial's produce similar results than referrals, because it is based on your customer's words. Even if they are not directly referring someone to you, his/her positive words resonate on their network and your network too!
Read More: GTR Testimonials.
6. Send Out a Survey as an Opening.
Identifying potential advocates can seem like a huge challenge, but using a simple Net Promoter Score® (NPS)* survey can help make the process a little easier. Using an NPS survey can help you pinpoint potential advocates (the group called NPS Promoters) and turn this customer feedback channel into a referral growth engine.
In the end… Just Ask!
Do you give out 100 business cards a month? Do you hand out a referral form or web form to your customers? Do you send emails pleading for referrals (Assuming it got through that email spam filter)?
This is where you need to get creative! While any of these is better than nothing, using technology to your advantage can be a game changer. And there is one common denominator between all of your customer's: they have a cell phone, and they spend a lot of time using it: according to comScore study, adults spend at least 2 hours a day on their phone, 86% of that time in apps. So get on their phone!
Read More: Why Is Branded App Marketing So Important?
Text messages, contact information, a mobile app... any of these will guarantee they will get your information when it comes the time to send that referral! And if you can have all these features with a custom branded app it's even better: it helps you to connect with your customers and reinforce your brand image!

* NPS is a customer loyalty metric utilized across multiple industries to measure how happy a customer is with your product or service. It is determined by sending out a single-question survey to your customers that asks: How likely is it that you would recommend our company/product/service to a friend or colleague? Respondents are asked to score their answer based on a 1-10 scale. Responses of 7 or 8 are labeled as "Passive," and scores of 0 to 6 are considered "Detractors." If a customer responds with a score of 9-10, they're labeled "Promoters" of your business. This group is most likely to provide referrals.