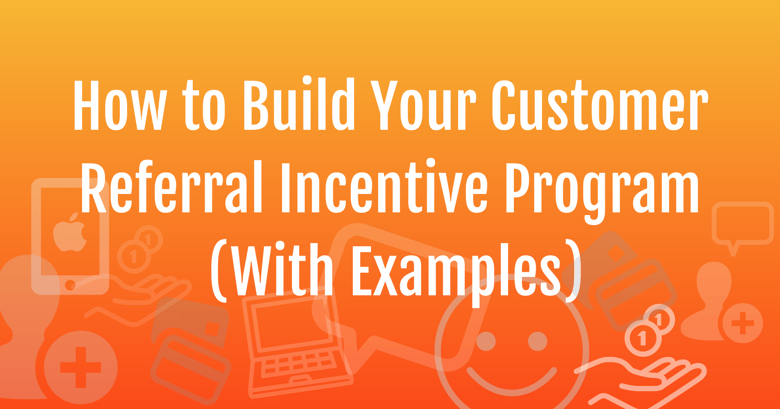 Referral Incentive Program
No one needs a reminder on how this year (2020) has gone, so we'll save you that story. But the story to portray is how and why word of mouth referral programs are ever so important, especially those that cater to the ever changing physical and technological landscape we live and function in. Now more than ever, your customers are bringing, and continue to bring, legitimate value to your organization.
As a business owner, employee, or brand ambassador, you have to keep coming up with creative ways to attract new customers. But as your initial focus may lie on a great product and service, be sure to take some time to map out the journey of a customer referral from start to finish, especially if you have to integrate the process into an existing CRM or employee system. This will help you find holes and speed bumps in your current process. A company that has a unique, yet stabilized and structured referral incentive process, will stand out in today's fast paced society.

The Importance of a Referral Incentive Program
So why are customer referrals and a surrounding incentive plan important? Customers are a known commodity to any business. Without customers, where exactly would any business be able to go? Certainly not very far without diving into the red. The importance of attracting those customers, in any way, shape, or form, brings to the immediate forefront a conversation on.
Customer acquisition costs: Whether it's marketing material, ads, ad reads, television, pamphlets or brochures, or simply man hours, there is normally always a cost associated with bringing in new business and customers. Campaigns that leverage your existing customers to bring in new business really do not require much work at all, only structure and organization.
If you're spending money without getting a return on your investment, you obviously won't be profitable. The great thing about referral programs is that unlike traditional acquisition campaigns, they cost much less. If you're unsure how to do things, it's always a good idea to follow the lead of those who succeeded before you. Take a look at Uber. One of their initial referral promotions. It was a standard "give $20, get $20 concept.(quicksprout.com)
Brand loyalty: Among the many benefits of a referral incentive program is that your great product and service, as mentioned earlier, remain at the forefront of the conversation. Your logos, imagery, and customer service are remembered and discussed. You have your customers then advocating on your behalf, many of which completing the initial aspects of the sale itself.
With bigger brands, it may be easier to fall back to your existing customer base to launch a new program. If your brand is newer, or less strong, it may be worth offering a bigger reward to existing customers, both to deepen their brand loyalty and motivate them to make the referral.
What Can Your Brand Offer?
With a plan put in place for your customer referral incentive program, there will need to be an immediate focus on your employees' understanding of what a good customer experience looks like. The conversation that occurs when your sales representative is asking their customer for a referral is always seemingly daunting.
Offering, promising, and ensuring a good customer experience as a business or a tag-line then drives and pushes engagement with your staff. According to LinkedIn's research, an overwhelming majority of HR professionals (87%) agree that the number-one way to boost referrals is through better employee engagement. (talentlyft.com)
When your employees are bought into a customer referral incentive program, they are giving it their all pre-sale, at time of sale, and post sale, and the process of asking for that first referral becomes seamless. From there, the conversation can even surpass from not only asking for a referral, but even a review.
How to Calculate the Value of Your Incentives?
A good way to show appreciation to the customers referring you is to reward them with different levels of incentives based on the quality and stage of the referral they send you. For example, you can provide an incentive for any referral that results in a sales appointment (regardless of whether the referral makes a purchase). Then, you can offer a better incentive if the referral closes the deal.
This is a great option for businesses that have a long sales cycle. When you set up incentives this way, it helps you increase the quality of the referrals you receive since incentives are tied to it. Take a look at the Sunshine Renewable Solutions Referral Program. Since their product has a long sale cycle and not all the referrals will qualify to become a customer, the company decided to pay for appointment completed and a bigger reward when the referral becomes a customer of the company.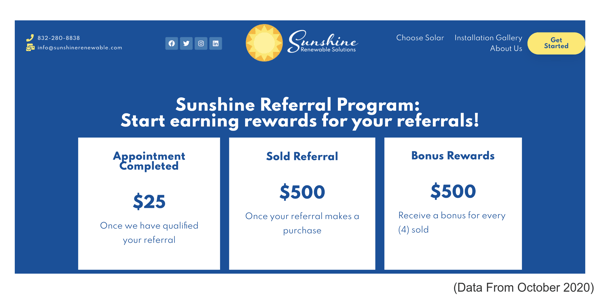 The 5-Steps Plan to Building a Referral Incentive Program
1. Set Clear Goals
With referral programs, you need a clear goal before you can incorporate metrics into your business decisions. Only after you have your goals, you can track your referral funnel to get the results you want. As in any other marketing strategy, you need to set up SMART goals. SMART will respond to:
S: Specific | M: Measurable | A: Achievable | R: Relevant | T: Time-Bound
2. List Possible Sources
Referrals can come from outside of the company as far as for the inside teams. Every interaction you have and every relationship you build can cause a positive experience that can be shared with others and end up with a referral. That's why you need to include in your company's referral program first your past and current customers, but also the company's employees, sales reps, business partners, influencers, etc.
Wells Solar is a great example of referral source diversification: they expand their advocate's network (or, in their case, affiliate's network) to not only customers, but non profit organizations and employees.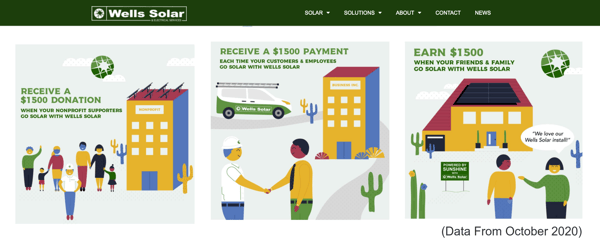 3. Spread Your Message
Word of mouth with any customer referral incentive program is everything. It is all about a continuous engagement and enticement to drive referral submission. Any way you can keep your program, and your rewards, top of mind, the more opportunity for referrals will present themselves.
Ensure your employees are continuously engaging with your customers to drive a positive experience, and then give them the tools and techniques to ask for that first referral.
4. Choose Attractive Incentives
Here are a few examples of what can be offered as incentive for your referral program.
- Cash/Virtual Cash: the good thing about cash rewards is that they are practical and universal. Besides, people are motivated by cash: according to a Harris Poll 77% of Americans say they prefer money as a reward.
- Gift Cards: Often when advocates receives cash, it goes into their day-to-day costs like mortgage repayments, loans or energy bills. Gift cards can allow them for guilt-free spending to buy something tangible that they may have been wanting to purchase for some time such as new golf clubs or running shoes. The tangible gift purchased with the gift card will remind them of your brand and what they did to achieve the reward. Memorable gifts can make the thank you even feel more appreciated, which helps drive engagement and repetition.
- Store Credit: This is a common referral marketing ideas. Rewarding your referrers with a store credit is a great incentive because it preserves your margins and this credit will drive purchase behavior. When they use their credit to make additional purchases, they reinforce their loyalty and build trust with your brand, which makes future purchases even easier. Store credits will work better for brands with a fast sale cycles, fast- consumption goods, and lower-priced products.
- Bonus Rewards: Your customers may refer more if the incentive gets better each time they do it. This can turn your customers more involved in the referral process. For example, you can create a program where the reward depends on how many referrals your customer sends.
See the Sun Badger's referral program. Their customers could earn a bonus of $1000 when they submit 5 referrals who become customers. The company has been so successful with their referral program that even prospects who haven't become customers are already sending referrals.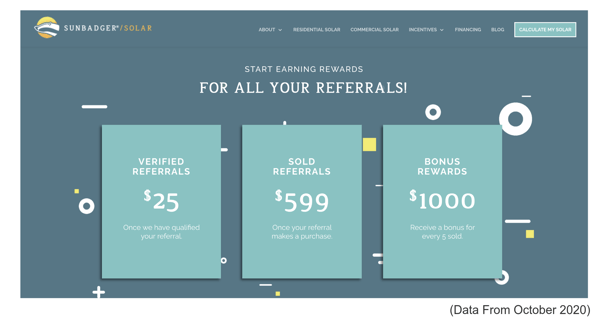 - Multi-Level Rewards: This technique will help your referral program expand beyond your advocates' network since their referrals can send you more friends and they will all get rewarded! With this technique, you give people the chance to share a referral link or an advocate link.
With a referral link, the referral process ends up on this connection and only those people get the reward. But with the advocate link, all referral levels are linked, and they keep getting rewards once a new friend is added to the network Once more, this technique may not work for all businesses, but for B2B or high-ticket products it is attractive and sustainable.
- Tier Rewards: Tier reward is another technique used to keep advocates engaged and wanting to send in more referrals. As per the Sunergy System's Referral program, they pay up to $500 for 1st and 2nd sold deals coming from Advocate Referrals and increase this amount to up to $750 if 3 or 4 referrals become customers.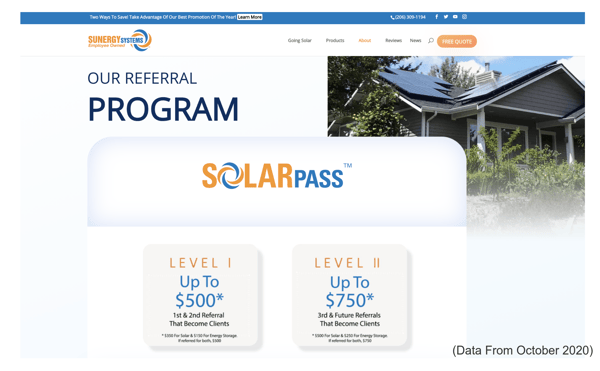 5. Track Your Referrals
Why should you track your referrals? The answer is "because you should." No matter what method you use to track referrals, you need to trace back who is referring your company. With an automated platform, you increase the chances of being more effective and assertive in your approach.
When you track your referrals, you can figure it out:
- The number of Advocates signing up on your program: At the end of the day, any business wants to have as much Advocates as possible (meaning 1 customer = 1 Advocate). You don't need to limit your list of Advocates to current customers, as mentioned many times before, you can expand the list of your referral sources to friends, family, employees, influencers, etc.
- Who are your best Advocates! Your best Advocates would be the ones who send you more referrals and those referrals end up as closed deals for your business. The average of referrals per Advocates is around 2, but if your company takes the referral program seriously and track referrals in a daily or weekly basis, the number can be double or even triple.
- Which sales reps are working more frequently with the Advocates: One of the pivotal elements of a successful referral program is to have your sales reps engaged with it. This includes providing training about the program and how to ask for referrals.
Referral Incentive Program Recommendations
Also, it's important to know what you are doing to hold your sales reps accountable. A great idea is to build a plan with a quota for referrals (it can be a week or a month plan). That way you make sure they are on board and aiming to mention your referral program in all stages of the selling process and even reaching out past customers to have them sign up and refer too. You will then track the referrals per sales reps and reward them properly, based on their referrals' performance.