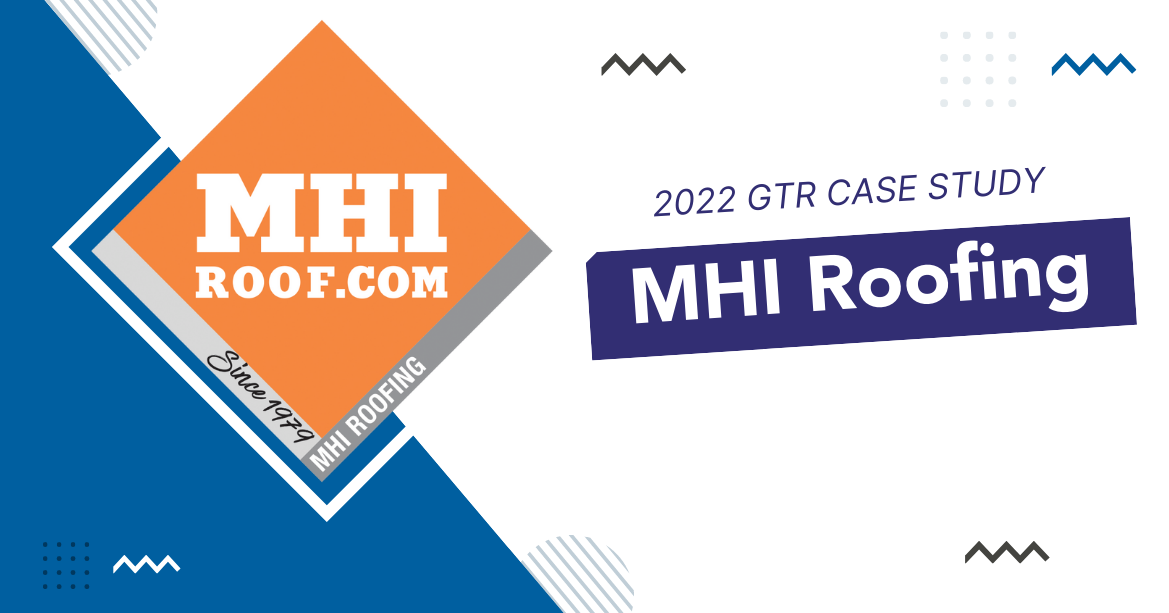 MHI Roofing is a seasoned, sought-after residential and commercial roofing company that was looking for a better way to engage their sales team, improve customer experience, and manage their referral program. With more than 350 referrals and over $1 million in revenue since starting with GTR, this case study highlights MHI Roofing's success with the GTR platform.

The Story of MHI Roofing
MHI (originally called Meredith Home Improvements) has been in business since 1979. Ty Meredith - CEO & President - inherited the business from his uncle, but when Jon Broce joined the company in 2019, they decided to rebrand it to MHI Roofing.
As a family-owned business, MHI has earned an outstanding reputation because of its versatile services, industry-leading products, and dedicated commitment to customer satisfaction. They also offer free inspections and a no-money-down guarantee, so there's little question as to why they're a leader in the building improvement industry.
The Challenge: Referral Program Engagement with the Sales Team
With a 50-60% conversion rate, referrals were always the best type of lead for MHI, but the challenge was figuring out how to encourage the sales team to get their own leads. Originally, MHI started tracking with a personalized landing page for each sales rep in an effort to track where their leads were coming from, but it still left the issue of how to pay their advocates for their referrals in an easy and convenient way. When they found Get The Referral on Facebook, they knew that GTR would provide the powerful but simple solution that they needed.
Check out the Case Study Interview highlight video below:
"Once a homeowner has the app, they're a fantatic about it. They love it!"
- Jon Broce, Managing Partner, MHI Roofing
How MHI Roofing Uses the GTR Platform
Jon explained that initially, MHI started with a Real Estate strategy for their sales team. Every sales rep has their own marketing material with flyers, yard signs, Facebook pages, and their own referral link for tracking. The MHI app has only improved its strategy with everyone all-in-one place.
The sales team is now 100% engaged with their referral program and actually asks people to download the app when they first schedule an appointment with them. "It starts with the first phone call when we set the appointment. The scheduling team calls the prospect and prompts the app by saying that it will help customers follow the status of their project at each stage and get real-time pictures!"
The sales team has seen up to 60% of their customers adopt the app, noting that those who do download it, do it for the full customer experience. The app retention rate MHI has seen is as high as 98%. Once a customer downloads the app, they keep it, and MHI stays top of mind. Customers love the automatic project status updates with actual photos of the work that's been done using the CompanyCam integration. Customers can access their documents, use the in-app messaging feature to communicate with MHI, write a review, share on social, and so much more.
Customer Experience & Retention Tool
Having customers download their app at the very beginning of the MHI customer journey allows for an unmatched level of engagement and retention. Here are just a few reasons MHI gives their customer for why they need to download the app:
* Project Status Tool
This app feature allows MHI to update their customers on their project status automatically, alleviating the need for project update phone calls and emails. For projects with multiple stages, this feature notifies customers through the app as they progress toward project completion. It has reduced emails and phone calls, making the process easier for the MHI team.
* In-App Messaging
This app feature makes communicating with MHI customers and prospects easier and more convenient because it's all done within the app. From one-way push notifications to back-and-forth conversations - you can do it all in the app!
Documents
This feature is designed to make it easy and convenient for customers to access their important documents. MHI uploads customer documents (such as invoices, warranties, etc.) directly into the app, ensuring that customers have everything they need in one place, for easy access.
Company Cam & CRM Integration
MHI integrated their Customer Relationship Management (CRM) software with their app, allowing for seamless integration of customer information across platforms, including automation that uploads customer documents to the app after they've been uploaded to the CRM. This feature saves MHI time and allows them to stay synced across platforms.
MHI also integrated their custom-branded app with Company Cam (a GTR partner), allowing their men in the field to take pictures of the projects. Company Cam allows them to tag those photos to be shared with customers in the MHI app. Jon Broce explained further, "We've been able to put the pictures in there, making it more than just the referrals to get started. And then once they sell the job, then we ask for referrals."
The Backend Online Dashboard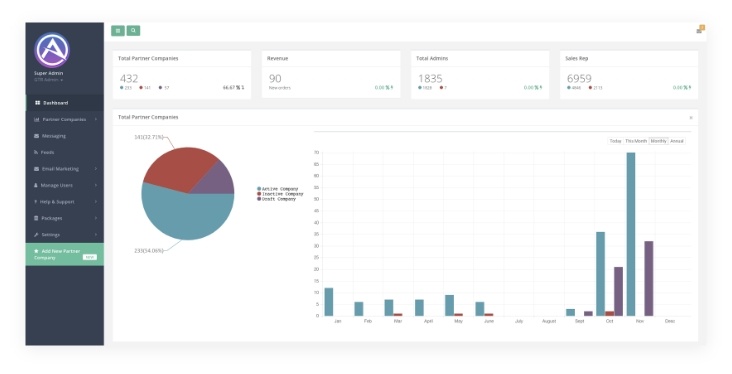 The app is a powerful customer-facing tool, but the backend online dashboard allows MHI to track, manage, pay, and analyze their referral program. It streamlines the tracking and management of referrals using automation, and it also helps MHI educate and incentivize its advocates to send more referrals. "The backend is really strong for keeping your organization organized," Jon stated.
The Results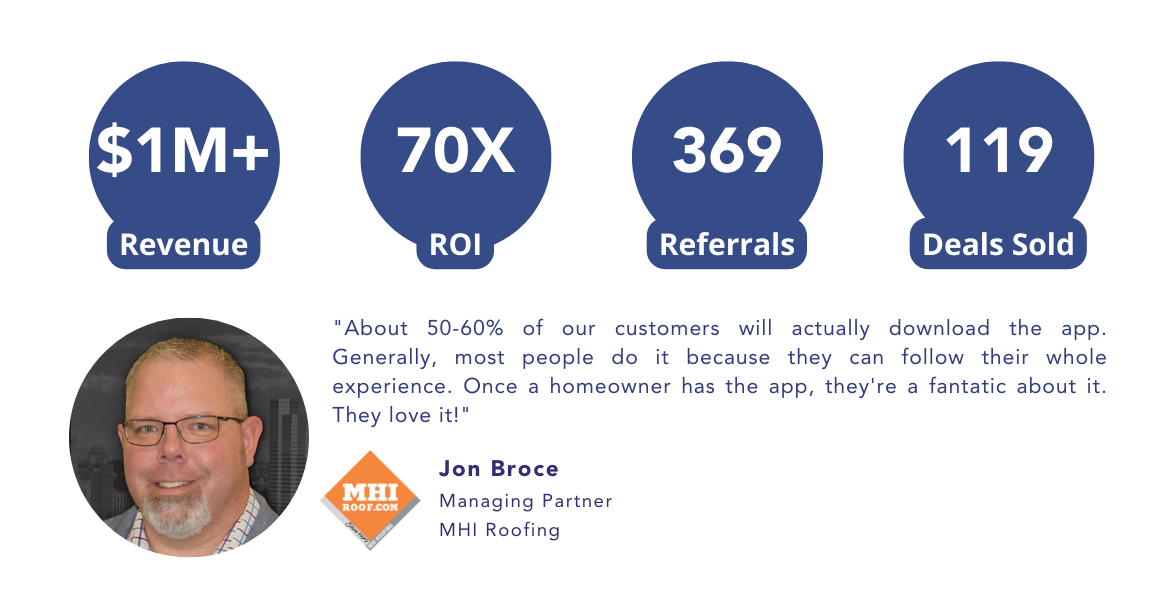 Since they joined the GTR family almost 2 years ago, MHI Roofing has been able to gain 380 Advocates, 369 Referrals, and 119 Deals Sold. This data shows they are averaging about 6-7 Referral Deals per month with a 70X Return on Investment (ROI). That has created an additional $1.4 million dollars in revenue for their business!
The data analytics that has been provided by the GTR platform have proved to be a game changer as well. MHI has been able to finally get an accurate closing rate and accurate date when it comes to tracking referrals too. In order to track an actual closing rate effectively, they require their sales team to enter their deals into the system before giving a quote - not just when they sign. Jon explained further, "Now I have a way to measure what the guys are and aren't doing. Before it was like, well, I hope they're out there networking. Now I can put them side-by-side with the top three guys, and analyze what they are doing that can be shared with the rest of the team for success!"
Now, consider what these numbers could mean to your business. How would closing 6-7 additional deals each month impact your bottom line? Could you use an additional $1.4 million dollars in revenue? Click the button below to find out what GTR can do for your business!
Would you like to share this Case Study with a business partner or colleague? PLEASE SHARE and download the MHI Roofing Case Study one-page pdf version here.