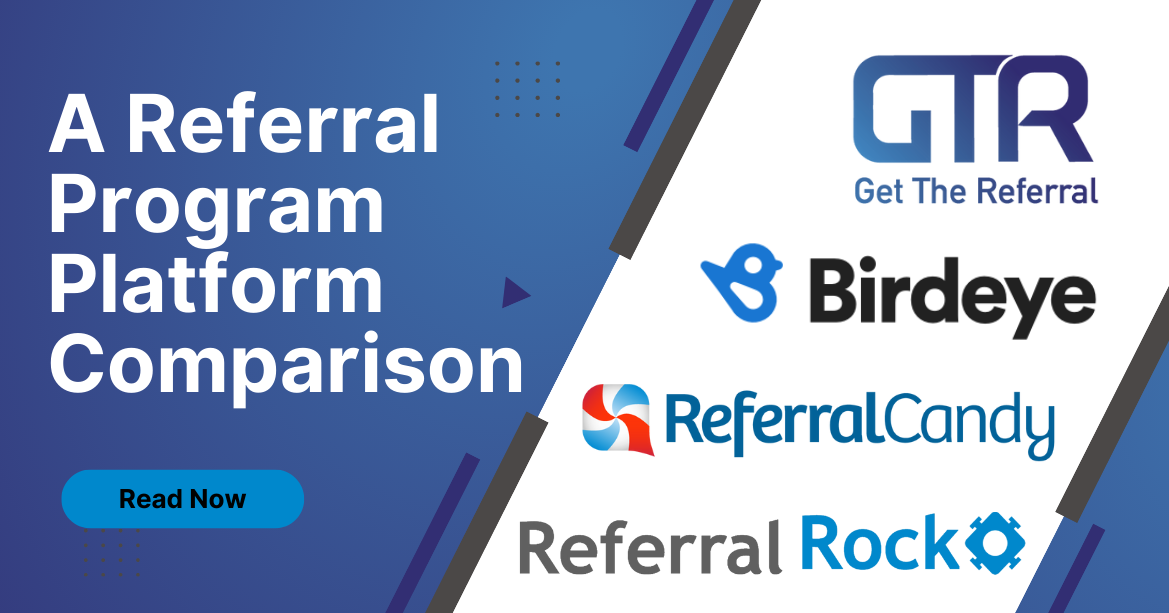 Referral program platforms and customer advocacy software can yield incredible results for the companies that use them. In this article, we compare the three referral program platforms that are often viewed as GTR competitors – whether that be in the online advertising space or Google's organic search engine result pages. These fine companies include Birdeye, Referral Rock, and Referral Candy. Keep reading to learn more about the features that each of us has in common and which ones we don't, including the industries that we serve.

Referral Program Tracking, Analytics & Rewards
A referral program is designed to allow anyone who wants to refer your company to others the ability to do so while providing the tools, tracking, analytics, and rewards necessary to make it a success. The trust factor that is inherently part of the referral process makes this strategy both powerful and cost-efficient. Referral marketing then allows you to maximize the effectiveness of your referral program so that it can become a long-term source of quality leads.
The streamlining of a company's customer referral program is a core component of any good customer advocacy software. This feature should include tools to track advocates, referrals, and referral rewards or payments. Any solid customer advocacy software should be able to pull user data and view basic analytics on your referral program performance. Each of the platforms compared here have this important product feature, however, we are the only one that specializes in the solar, roofing, and home improvement industries.
Customer Support
Customer support for any new referral platform or software is a must since new technology can be challenging for anyone to accept, implement, and incorporate. Wonderfully, all of the companies compared offer some form of customer support to their customers. It appears Referral Candy offers an online help desk and knowledgebase support. However, GTR, Referral Rock, and Birdeye all offer those options in addition to full phone support.
When it comes to customer support, we take things to another level at GTR. Rather than just "support" or "service" we strive to provide "customer success" and approach our customer's journey from this mindset. We always strive to provide a quality customer experience. We take a customer-focused approach to what we do at GTR and strive to ensure that our customers have the highest chances of success with our products and services. To accomplish this, our customers have dedicated Customer Success Managers who are proactive in their approach with full on-boarding (including live training sessions) and timely check-ins.
CRM Integration & Social Sharing
Customer Relationship Management (CRM) software is an important tool many companies already rely upon for daily operations, including those in the industries we serve. CRM software is a vital part of many company operations with its ability to manage leads, prospects, and customers. Popular CRM platforms include Salesforce, HubSpot, JobNimbus, Zoho, etc. The ability to integrate new technology with one that is already in use and effective has the powerful ability to make its implementation that much easier.
Social sharing no longer needs anyone to tout its power as most of us now realize that social media is here to stay. Integrating a social sharing feature allows companies to make it easier and more convenient for a customer to share their experience with the online community. Each of the platforms compared have the ability to integrate with various CRM platforms, as well as the most popular social sharing networks.
Messaging/Private Chat & User-Reviews
Communication is a vital part of a quality customer experience for any company but it can be a challenge for the home improvement industry professionals because of the amount of time you spend in the field. Customers need a reliable way to contact you, their project manager, and your support team. Having the ability to private message you or a member of your team feels more comfortable and familiar to those who live in this technological age of SMS/text messaging and smartphones. Only Birdeye shares this feature with GTR.
When it comes to user reviews, most of us think of review sites like Amazon, Google, Yelp, Facebook, G2, and others. These giants know that 70% of people trust consumer reviews online (Source: HubSpot). The power of reviews was made exceedingly clear by Amazon first and now businesses and consumers alike expect to have the opportunity to read through them before making a decision on a purchase. A platform that includes review features has the ability to facilitate the review process by keeping everything connected. Again, only GTR and Birdeye appear to include this feature.
Project Status Update & Push Notifications
According to Digital Project Manager, project management is important "because it ensures what is being delivered, is right, and will deliver real value against the business opportunity." This is especially true for roofing, solar, and other home improvement companies. Projects are usually months long and include various stages involving contracts, permits, and installations. For this reason, GTR offers the Project Status Tool and we are the only ones in this comparison that offers anything like it.
Our Project Status tool allows you to set different project stages for your company that will allow you to easily update your customers at every stage of the job. With a few clicks, the tool allows you to update a customer's project status and then automatically sends them a mobile push notification to alert them of the update. There will no longer be a need to field incoming update requests or contact every customer with an update at the end of your day. Project management is made easier and more efficient with this tool. With integrations like CompanyCam, the ability to have pictures included just adds to the power of the impression you will make on your customers when it comes to trust and transparency.
Company Branded Mobile App
According to AtInternet, "A branded app is a mobile application created by a company to promote its brand. Branded apps typically reflect the brand's identity and feature its values, colors, logo, visual identity and style, slogan, and more." Since we know that 80% of Americans own a smartphone (source: comScore), we've made your branded mobile app a core feature of our customer advocacy and referral platform. Birdeye and Referral Rock both have their own apps that do make their platform more accessible and convenient. However, only GTR offers a mobile app that is uniquely branded to your company and configured to provide the features that you and your customers find most valuable.
In Conclusion
There's no doubt that we find ourselves in great company with the referral platforms we compared here in this article. Each of us offers the necessary features to make a referral program successful, empowering a business to grow and thrive. However, it is important to note that only GTR specializes in helping solar, roofing, and home improvement companies. Birdeye and Referral Rock seem to target a broad range of industries from health care to fitness to eCommerce. While Referral Candy focuses on retail, fashion, and others. Our focus is on creating great experiences and the best product that are tailored to the specific industries that we serve.
Our dedication to the customer experience isn't just about the experience you have with our company -- it's about the experience we can help you create for your customers. With all of the powerful features that we have in common with this group, GTR is the only provider to offer a company-branded mobile app with in-app messaging, push notifications, social sharing, documents, user reviews, and your website all rendered within the app. With the project status tool, you can save time and focus on the things that require your immediate attention, all while staying top of mind. Click on the button below to learn more.